Online Donor Management Software +
Nonprofit Task Management: To-Dos & Calendar
Optimize nonprofit task management with coordinated schedules
(included with your monthly subscription)
Organize and Manage All Your Fundraising Tasks
Assign Tasks to Multiple Team Members
Copy and Record Detailed Notes
Features
Create customized nonprofit task management task categories to meet all your needs
Schedule recurring tasks for the year
Assign tasks to other members of your fundraising team
Set reminders to track due dates for your grants and mailings
Integrate your Eleo Calendar with Google Calendar
View your task management calendar on homepage
Organize your task list by type, priority, completion date and more
Track tasks associated with donors, events, grants, donations, mailings and more
Scheduling for Improved Nonprofit Task Management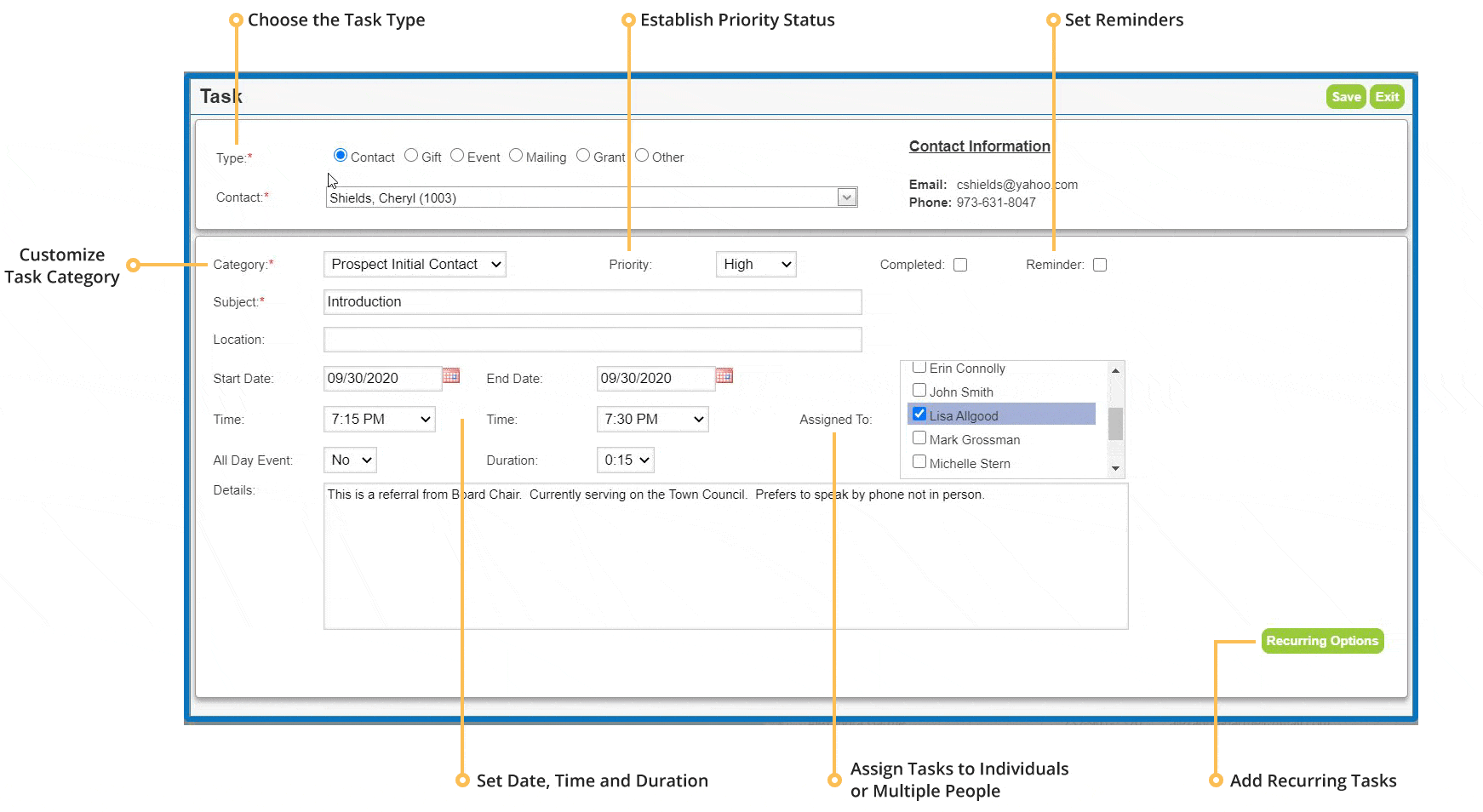 Benefits
Create custom task types to identify specific touches with your donors.
Schedule and view tasks within the donor profile's history tab.
Add detailed notes to completed tasks with donors.
Assign tasks to members of your team.
Use one coordinated calendar to keep everyone on the same page.
Follow-up with volunteers and fundraising committees.
Manage tasks and to-do's all-in-one place.
Schedule tasks on one coordinated calendar for your nonprofit.
Track grant application dates, donor calls, committee meetings, and more within an interactive task list.
Stay timely with your donor touches and stewardship.
Create your Year-End fundraising timeline on one, collaborative calendar.
Build out your nonprofit's social media schedule and assign online tasks to team members.
Increase Your Fundraising
Offer a monthly giving program to your donors
Provide donors with easy-to-use donation pages, accessed on any device
Share your donation pages on social media platforms, emails and more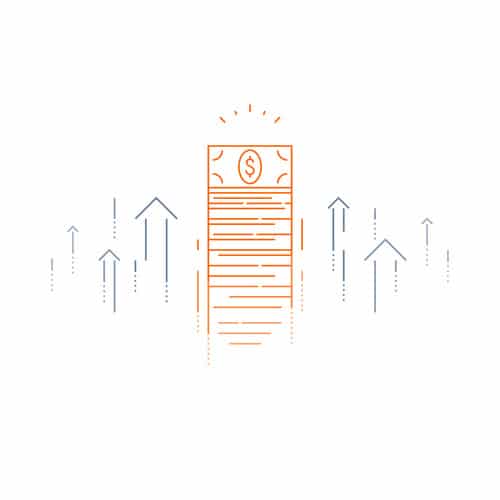 Sync Your Calendar with Your Nonprofit Task Management Everything You're Looking For in Donor Management & Fundraising Software
Eleo believes every nonprofit – no matter its size – should have access to an affordable comprehensive online donor management system and CRM to support crucial fundraising and donor cultivation tasks.  So that's exactly what we've developed. With Eleo, you don't have to sacrifice features or usability for affordability.
Affordable, starts at $39/month
Provide donors with easy-to-use donation pages, accessed on any device
Share your donation pages on social media platforms, emails, mobile and more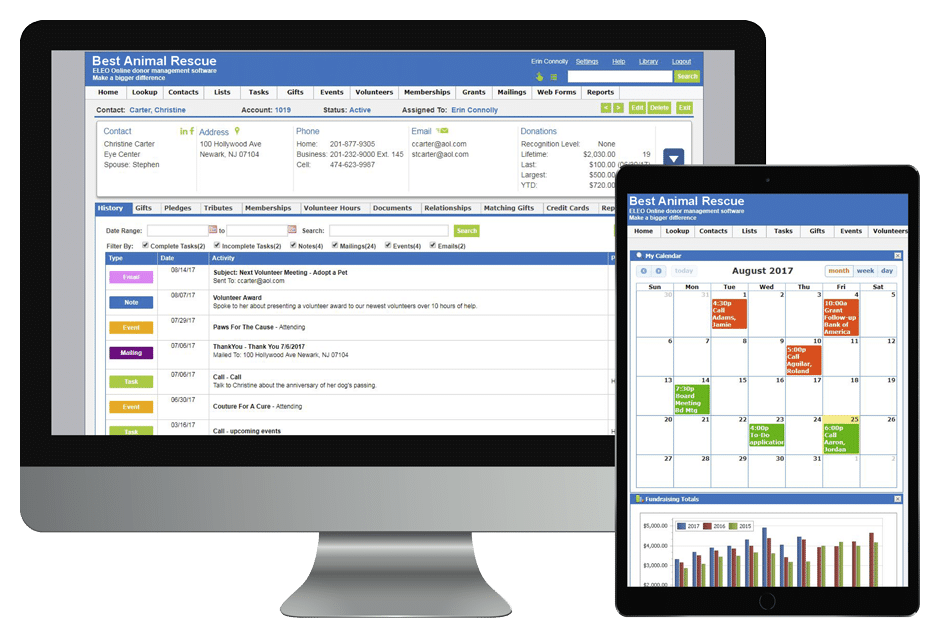 Let Eleo help your nonprofit make a bigger difference.
What our customers are saying
Jodi Kusturin PT, DPT

Director, Equestrian Zone Pediatric Therapy

"We as non-profits can't afford NOT to have Eleo! The return on investment pays for itself and will grow your organization!"
Cara Pavia

Dev Coordinator, Community Access Unlimited

"We've had a great experience working with the Eleo team. We're able to train our staff to use the software with ease. The software is comprehensive and affordable making it an easy choice to switch from our prior system."
Janet Weisberg

Executive Director, Hold Your Horses

"Using Eleo has helped immeasurably with our fundraising efforts and we really appreciate all of the excellent customer support."
Tara B. Kelly

Executive Director, The First Tee

"We started using Eleo last year and are thrilled! Eleo is user-friendly and flexible to tailor to organizational needs. The technical support I receive from the team at Eleo is excellent - much better than many of the larger database products I've used. Set up is easy and customizing is a snap. I highly recommend Eleo!"
Erin Phillips

CEO, Solace Theatre

"Affordable, Flexible, and Friendly! If I could give more than five stars, I would! Customer support are so kind on the phone and in email; even when I am frazzled, they are quick to help me. We use Eleo for donor management, fundraising registration and fundraising management. All have been a lifesaver! Eleo made sending receipts, end of year statements, and thank yous a breeze and keeps me on track with our donors. Plus, it's a great price for our small non-profit!"
Vanessa Carter

Development Coordinator, Boys & Girls Club of Metro Queens

"Eleo has made organizing our special events so much easier than before. The system is easy to use and helps me maintain contact with our supporters. I would totally recommend Eleo to other Clubs."
Carla Rodriguez

House of Yahweh South Bay Outreach Center

"We used Eleo's event module to plan and organize our annual gala fundraiser last month, and it was the most successful ever! Thank you Eleo team!"
Choose which Demo works best for you.
Video Demo
Complete the Form
for Eleo's Video Demo

Please do not provide generic emails such as info@, admin@, etc.
Live Demo
Schedule Your Personalized
Nonprofit Software Demo
Please do not provide generic emails such as info@, admin@, etc.