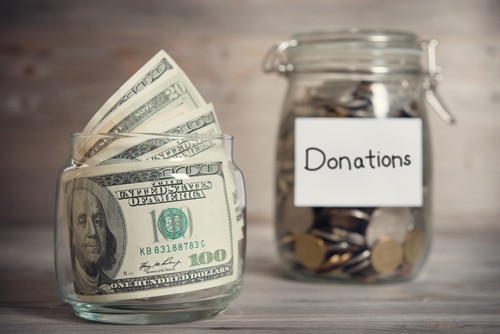 Are you looking for a way to boost the amount you raise for a charity? One of the best ways to literally double the results of your fundraising is to seek out matching donors.
What is gift matching?
When a fundraiser enlists matching donors, what that means is that for every gift they receive from a donor, another donor – or group of donors – will match that gift. This can take on a few different variations, including:
Direct matching, where a match donor gives an amount that is equal to what a regular donor has given.
For each new or returning donor that contributes, the matching donor will give a set amount to the fundraiser. I.e., if a fundraiser gets 2,500 donations and the matching donor has pledged $10 per donation, the fundraiser will receive $25,000 on top the amount initially raised.
Matching donors may set a challenge donation, where if a charity goes over a certain threshold of donors or amount of money raised, the donor will match funds raised.
Much of donation and gift matching happens at the employer level. To incentivize employee charitable donations, some of the biggest companies worldwide like General Electric, Johnson & Johnson, Soros Fund Management and even PepsiCo have matched hundreds of millions of dollars from employees.
Matching donors, as you might imagine, are most often larger companies or prominent charitable interest groups. According to America's Charities, 65 percent of large companies match employee charitable donations. While smaller groups and organizations may engage in matching, it is less common. The same study from America's Charities found that only 28 percent of small to mid-size companies match.
How to leveraging gift matching into more donations
How can you find matching donors to help drive effective fundraising? The first step is to run a search for companies or organizations in your area that regularly match donations. Organizations like the American Civil Liberties Union, the Red Cross, The Bill & Melinda Gates Foundation, Facebook and more all have engaged in matching donations at various times.
Even just the mention of matching donations can have a positive impact on fundraising: Forbes reported that bringing up matching gifts when soliciting donations results in a 71 percent increase in the response rate and an over 50 percent boost in average donation amount. Donors like the idea that not only are they contributing to a good cause, but that their contribution is being validated and boosted by an outside party. With that in mind, fundraisers should always mention whether matching gifts will be part of the equation early in donor correspondence.
Even with gift matching lined up, outreach efforts can be complicated. Your organization needs to keep its volunteer and donor information current and accurate to engage your community and foster these important relationships in the future. To learn about how donation software can help you raise more funds, visit Eleo Online and sign up for your free trial!