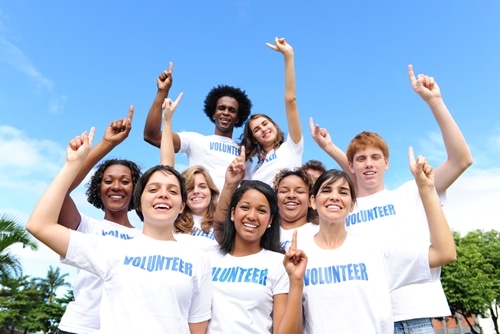 In a previous article, we spoke about the importance improving your nonprofit's donor retention by connecting with the 81 percent who don't give more than once. While this is vital, your volunteers are equally as important to your organization's operations. If donors are the people who provide the funds, your volunteers are the ones who provide the additional hours of help to keep your nonprofit running smoothly.
Three ways you can improve your nonprofit's volunteer retention
Volunteers are a vital factor in your nonprofit's success. For example, Independent Sector recently stated  that the estimated value of volunteer time per organization for 2015 was $23.56. Just think,; your volunteers are saving your nonprofit over $20 an hour, simply from their desire to pitch in and contribute to your mission. To keep these volunteers coming back year after year, here are three ways you can boost your current retention rate:
1. Encourage them to use their skills, knowledge and expertise
Each volunteer who comes through your doors has a specific set of skills to offer your organization. Whether he or she come from a background in sales or the entertainment industry, all of your volunteers have knowledge or expertise that can benefit your nonprofit's short- and long-term goals. Therefore, if you want volunteers to stick around, encourage them to tap into these skills. This means that you can collaborate with your staff to plan fundraisers or improve your nonprofit's online presence. There are an endless number of ways to use your volunteers and make them feel like valued members of your team.
To accomplish this, offer numerous options for volunteer placement and then speak with volunteers individually to determine whether or not they have something to offer your organization that was not previously listed on the application.
​2. Educate and support your volunteers
Your volunteers want to know as much as they can about your organization. This is why you should educate them about your nonprofit's vision and progress to date. A large part of retention is making volunteers feel like their time and work is actually contributing to the overall growth of the organization. They don't want to spend countless hours on tasks or projects that offer no real long-term benefits. So, don't forget to educate and support them.
To accomplish this, hold informative training sessions each time a new volunteer comes on board. You can also hold periodic refresher courses and update meetings to keep your volunteers in the loop throughout the year.
3. Encourage them regularly
Encouragement is a necessary component in volunteer retention. Whether they volunteer once a month or multiple times a week, you should show each of them the same level of enthusiasm for their ongoing support. Meanwhile, it's not enough just to show you care, but you also need to provide a way for volunteers to give feedback to you as well. This way, you will know in which areas your volunteer program can improve and hopefully fix any shortcomings before you lose valuable volunteers.
To accomplish this, write them notes, hold small appreciation gatherings, mention them in quarterly newsletters and talk with them one on one. These are all excellent ways to have a chance to encourage your volunteers.
Your organization needs to keep its volunteer information current and accurate in order to engage your community and foster these important relationships in the future. Fundraising and donor management software with a built in volunteer module for tracking volunteer hours can make this easier and more effective. To learn more about how donation software can help, visit Eleo Online and sign up for your free trial!