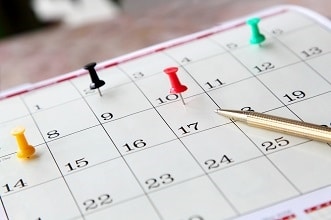 Your nonprofit's end-of-year appeal to its donors is centered around appealing for the last round of donations during the current tax year. Many donors wait until this time of the year to make their tax deductible contributions, which may make them more likely to contribute to a special program or cause they feel particularly passionate about.
After all, the 2015 Digital Giving Index found that 29 percent of annual giving occurred in December, with 11 percent of donations rolling in during the last three days of the year. This time of year is known as the "giving season" and it is essential for your organization to structure its end of year campaign in a way that sends the ideal message to the right donors at the perfect time. So how can you master your end-of-year appeals? Consider these three tips:
1. Encourage donors to contribute to something specific.
Gail Perry explained that most donors, especially mid-level donors, are more willing to contribute more during an end-of-year appeal if they can contribute to something specific. For example, instead of a general donation, you can appeal to your donors to fund a particular outreach effort or after-school program. While you might need certain funding efforts to go toward paying the water bill or paying your building's rent, it's important to realize that your donors want their fund something meaningful to them. Essentially, let them fund exactly what they want to contribute to.
2. Draw in your donors with engaging subject lines.
How can you (nearly) guarantee that donors will open up your end-of-year appeal emails? With a fantastic, engaging subject line. Gail Perry suggests including symbols or compelling phrases in your subject line to draw donors' attention and appeal to their sense of curiosity. For example, instead of leading with a traditional subject line, such as "We need your help…" consider spicing up your approach. Use phrases like "We are so close to reaching our goal – can you help?" or "Now is the time to make a difference." Basically, make it intriguing if you want to be successful.
3. Be bold (and connect over social media).
Your nonprofit might benefit from a direct-mail appeal to each of its donors – and that's fantastic! But have you considered supplementing this approach by engaging with donors over social media? Many people today use Facebook, Twitter and Instagram to connect with loved ones and get more involved with the issues they deeply care about. To use this to your advantage, include plenty of compelling photos of volunteers, children and staff members in your social media posts. This way, donors can see exactly the difference you are making. Additionally, consider boosting your posts through paid advertising efforts to get reach an even wider audience.
To learn about how donation software can help you improve your end of the year appeal efforts, visit Eleo Online and sign up for your free trial!