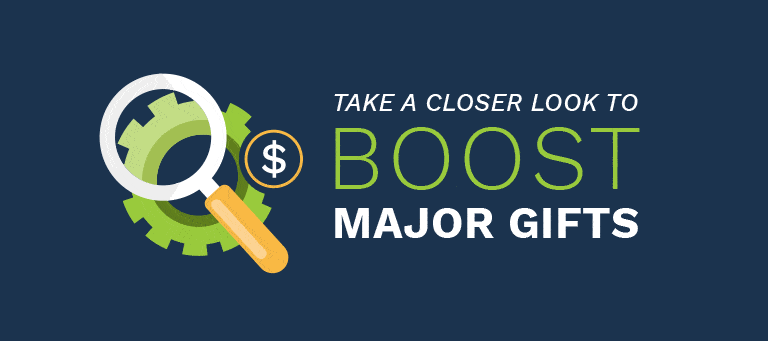 As mentioned in Part 1 of this blog series, developing a Major Gifts Program does not need to be overly complex or taxing to your organization. Many online resources assert the need of an entire team or committee for such a program; this simply is not the case. Major Gifts Programs are just as important and accessible to smaller organizations as they are to multi-billion dollar philanthropies.
Here are a few quick and easy steps you can take to lay the groundwork for a well-oiled Major Gifts Program at your small nonprofit organization.
1. Identify the 'Major Gift' threshold at your organization
Thresholds for what qualifies as a major gift will vary dramatically across organizations. A few key metrics will help your small nonprofit establish a reasonable major giving level. Tip – the number 5 is your friend in this process!
General Average Gift – Use your database to find the average gift given across the previous 5 calendar years. Knowing your average gift size provides a solid baseline to the amount your organization expects from the general population.
Top 5 Largest Gifts – Identify your 5 largest gifts in the past 5 years.
Top 5% of Gifts – Identify the giving threshold for your top 5% of donations.
★ Fundraiser Tip – According to Major Gifts Guru, Amy Eisenstein, "An appropriate level for a major gift is an amount where approximately 5% of your donors can (and will) give at that level. It should be high enough that when you receive one, it's cause for celebration at your office. But, it shouldn't be so high that you never receive one."
Once these numbers are gathered, use them to guide you in setting a reasonable major gift threshold for your organization. And remember, this isn't hard math or science! It's okay if the value needs to shift across time.
2. Identify your current major givers
Using your records, find which donors have given at or above your newly identified major gift threshold in the past year. Place these supporters on your 'Current Major Givers' list.
★ Fundraiser Tip – Many donor management systems support the creation of what are called dynamic lists. This type of list allows you to set specific criteria; when a donor meets those criteria, they are automatically added to that list. If your database offers this feature, it is the perfect way to track your current major givers.
3. Identify potential future major givers
To identify potential major givers, you'll need to ask yourself a few important questions –
Who has given at or above the major gift threshold in the past 2-10 years, but not in the previous or current calendar year?
Are there individuals who consistently engage with and give to your small nonprofit who likely have the capacity to donate a major gift?
Are there supporters who currently give inconsistent large amounts, multiple times a year?
Once you've answered the questions above, it's also important to take a look at certain specific groups connected to your organization including – volunteers, past and current board members, and committee members. It's probable these individuals are already giving monetarily, but exploring their true capacities to give can be eye-opening. Often times, people who have a deep connection to your cause, are most willing to give larger gifts.
★ Fundraiser Tip – Understanding your donor's current capacity to give allows your small nonprofit a leg up in the world of major giving. DonorSearch is a helpful tool for learning about your supporters' wealth and identifying potential major givers already in your database.
CONCLUSION:
These 3 quick and easy steps lay the groundwork for a successful Major Gifts Program at your small nonprofit. By setting a major gift threshold, identifying current major givers, and locating potential major givers, your small but mighty team is ready to take the next step – connecting with donors. Stay tuned for Part 3 of Eleo's 'Developing a Major Gifts Program' blog series to learn how to do just that!
Curious about a donor management system that can help you manage your Major Gifts Program? Email us at [email protected]