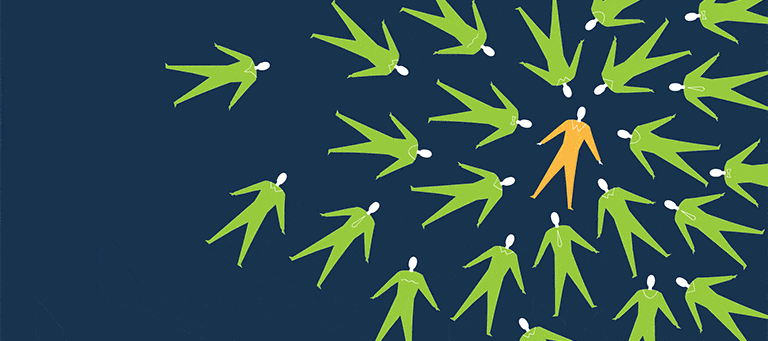 According to Gallup, the reason why organizations place people in leadership roles has less to do with their ability to manage and more to do with how they have excelled in other roles. When it comes to nonprofit leadership, organizations choose the right volunteer leaders just 18 percent of the time. Why is this the case? Either they're not looking in the right place or they're not looking for the right qualities – or both.
When small nonprofits need to fill volunteer leadership positions, they often look for people with the best fundraising connections. In other words, who has the best access to higher profile donors. Having a strong fundraising network is very appealing, but it isn't the only lay leadership quality that small nonprofits should focus on.
The Profile of a Small Nonprofit Leader
The first step to finding new leaders is to build a profile of your ideal candidate. While experience and success in a different role can be beneficial, they don't necessarily mean someone is qualified to assume a leadership role.
In many cases, your small nonprofit's next leaders can be identified based on the answers to five general questions.
What are they passionate about? Passion for your mission and achieving the goals of that mission are a must. Your next leader should be able to communicate their passion for what you do. This energy can breathe new life into your nonprofit's strategies and goals.
What do they know about your nonprofit? How have they supported your nonprofit specifically in the past? Were they a committee member or perhaps a volunteer? Engagement and dedication to your nonprofit are incredibly important when trying to find someone fit for the job.
What do they know about fundraising? If they aren't familiar with your nonprofit specifically, it's important to ensure they know the world of fundraising. Do they feel comfortable asking people for money? Do they have experience organizing events? Are they good with engaging others?
What do they know about finances? The financial component of small nonprofit leadership is critical. Budgeting, contract negotiation, and the ability to incorporate financial data into decision-making are essential skills. Nonprofit leaders should also be strategic thinkers who can ask hard questions and implement positive changes.
What are they willing to learn? Leadership development is especially important for small nonprofits that can't afford the most experienced candidates who check all the boxes. Leaders should be good listeners and collaborators who welcome input from others and are interested in expanding their skillset.
Where to Find New Leaders
Start by looking "inside the box." Search for new leaders in your nonprofit's donor management software. Finding leaders within your organization is much more cost-efficient than an external search. Also, internal candidates already have passion for your mission and a feel for your nonprofit's culture.
Your donor management software will tell you each individual's level of giving and engagement. It should also include information about their professional background, skills, interests, and accomplishments.
For example, who has remained truly engaged with your nonprofit across difficult years? Who has shown an eagerness to chair committees, sharpen their Zoom skills, and sign up for webinars? Who is interested in more than adding "board member" to their resume?
In other words, look at your current staff, volunteers, and donors to see who fits the profile of a nonprofit volunteer leader.
Want to see how Eleo donor management software can help you find new leaders within your nonprofit? Contact us today to schedule a demo!