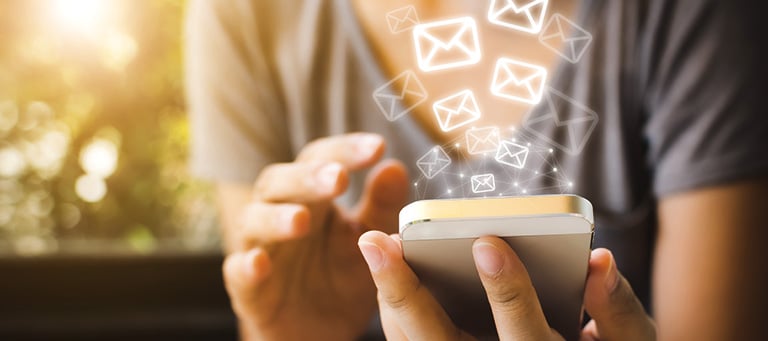 Now more than ever, your supporters want to hear from you! If they've been isolated or impacted by the world's current state, hearing about a cause that's important to them could be the highlight of their day. If they've been running ragged trying to balance work and home schooling their kids, your newsletter could be the stress-breaker they need to lift their spirits.
If your nonprofit doesn't have a newsletter, now is the perfect time to start one. If you do have a newsletter, now is the time to make it even better! Here are 10 nonprofit newsletter tips to ensure it is appealing to your supporters and keeps them engaged.
1) Define Your Goals
What's the purpose of distributing your nonprofit newsletter? Are you trying to keep supporters informed? Are you attempting to stir their passions and motivate them to donate? Maybe a bit of both? Once you define your goals, you should develop your nonprofit's newsletter around those goals.
2) Know Your Audience
Pull basic demographic data about your supporters. What is the average age of your donors? Is there a certain gender that tends to give more? What area are your supporters from? Are they concentrated in one location? Your database should allow you to pull reports and lists on biographical donor information. Similarly, it is important that you continuously enter such information into your donor management software. Gathering this basic knowledge about your supporters will allow you to create a newsletter that resonates.
3) Create Content that Connects
Once you know who your supporters are, where they live, etc. it is also important to create content geared towards their interests and passions. Pull information from your database that shows – which campaigns have generated the most money; which appeals drew the most engagement, which events build the most excitement. Share stories related to your most engaging efforts. Show photos and videos of real-world impact. Include profiles of donors and volunteers. Build excitement for upcoming events. Make your nonprofit's newsletter emotional!
4) Make Your Nonprofit's Newsletter Easy to Absorb
Use a layout that's simple, logical, and easy to follow. Take advantage of existing templates. Use the same template for every newsletter, so it becomes familiar. Use bold headlines, and graphics to separate sections. You may even want to include a table of contents so recipients can easily find what's most important to them.
5) Stay True to Your Brand
This applies to both appearance and message! Again, take advantage of pre-existing templates, but be sure to customize your nonprofit's newsletter with your logo, colors, and fonts. 51 percent of email recipients unsubscribe to newsletters that lack visual appeal; investing time to make yours attractive is worth it! Also, make sure everything you say is supportive of and consistent with your mission.
6) Use Attention-Grabbing Headlines
Email subject lines matter. The headlines of your social media posts matter. The title of your newsletter matters. "XYZ Newsletter, June 2020" is a snoozer of a headline. Keep it short, use action verbs, and ask questions that pique interest! Bonus tip: Throw in an emoji. Emojis in email subject lines can increase open rates by 45 percent!
7) Show Photos and Videos
Photos and videos make people pay attention. They should be a top priority in your nonprofit's newsletters. When you provide links that preview photos and videos, you can build engagement and increase click-thru rates!
8) Add Calls-to-Action. Always.
Instead of assuming your supporters know what to do next, point them in the right direction! Your nonprofit newsletter can have multiple calls-to-action (CTAs). You can ask people to donate, sign up to volunteer, register for an event, or go straight to your website for more information. Just don't forget to show them how with your Call-To-Action buttons! Tip: Never used a CTA? Check out the free version of MailChimp to learn more.
9) Make Sharing Easy
Social media and email sharing links should be prominently displayed in your newsletter, possibly in more than one place. If you link to pages on your website with photos, videos, and stories, add sharing links to those pages as well.
10) Provide Your Nonprofit's Contact Info
Sure, your supporters can find your nonprofit's contact information on your website and social media pages. Why not make life easier for them? In addition to providing your phone number, email, and website URL, include your physical address. Many donors still prefer to donate by dropping a check in the mail!