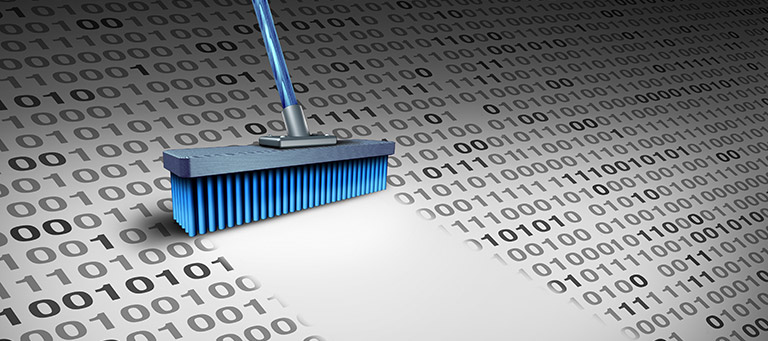 Spring cleaning for small nonprofits isn't just limited to messy office space and supply closets. There is another asset that will probably become disorderly, and is most likely to benefit from a good amount of elbow grease – your nonprofit donor database.
Database clean up prevents errors, inconsistencies, and information gaps. In other words, by keeping your database clean and tidy, it becomes dependable. You are better able to monitor donor engagement, and efficiently input important donor data. In the long run, this makes it easy to run reliable, trustworthy reports, and analyze how different areas of your nonprofit are performing. By going through this spring-cleaning process, you set your database up for success.
When it comes to database clean up, we recommend the following –
1) Clean Up Your Contacts
Let's start with the low-hanging fruit. First, your nonprofit should define what 'inactive contacts' mean to you. Maybe it's someone who hasn't given in 3 years; maybe it's someone who hasn't given in 5 years. Once that is decided, apply that definition consistently across your donors. Tag or remove any 'Inactive Contacts.' Our recommendation? Remove any contacts that have been inactive for 5 years or more.
Next, contacts who have passed away should be tagged as 'deceased,' or removed from your database (depending on how your organization handles it).
Finally, to properly clean your nonprofit donor database, your software should give you a way to search for, identify, and subsequently merge any duplicate records. Duplicates can become parasitic in your database. They can cause you to inadvertently contact the same donor multiple times and to inaccurately report on who has given. Because this step is of particular importance, we recommend asking for help if you need it. Many nonprofit CRMs provide assistance in this arena, Eleo included.
2) Delete Terminated Database Users
Donor databases contain confidential information. Protecting your donor's giving histories, personal matters, and other metrics is paramount. Therefore, when someone leaves your organization, it is critical to eliminate their access to your donor data. In other words, they need to be removed as a user on your donor database. We recommend putting a process in place for deleting inactive users every 6 months to minimize confusion, data entry errors, and the risk of security breaches.
3) Determine Who is Missing Information
As you clean up your donor database, you'll probably notice some missing information.  Maybe a number of donor email fields are blank, like title or prefix; maybe a few mailing addresses are empty. Take advantage of this opportunity to create lists of who is missing what. You should be able to do this easily within your donor management system.
Then, use these lists to send targeted communications asking donors to update their data. For example, send an email to donors who are missing their mailing address; include a link to an online form where they can provide updated mailing information.
4) Clear Out Unused or Incomplete Projects
It's not uncommon to start a project and never get the chance to finish it; especially if you're short staffed and crunched for resources. Maybe you created an event and it never came to fruition. Maybe you started designing an online web form and it never ended up live on your website. This is normal!
Database clean up encourages you to delete these types of projects, so they don't overwhelm your database with undue, unfinished clutter. Walk through your system, and simply remove any project that no longer serves your nonprofit needs. This process could also help you rediscover ideas that are worth cultivating in the future!
5) Investigate Outstanding Pledges
Scenario: Someone pledged $1,000 to your organization, with payments made across 12 months… but, you never received the 12 payments. This happens more often than we'd like to admit in the nonprofit world.
It's important to dive a bit deeper with these potential donors. Do you know why you haven't received a pledge payment from them? Could they have been left off a reminder list? Did they not receive a "thank you" email or letter for a previous gift? Is the donor's information outdated or inaccurate? Did they recently hit tough times financially?
It is worth it to follow up energetically with these donors. A little digging can help you boost your bottom line and get on the same page. They could just need a bit more time. Or, they might provide beneficial feedback that will help your nonprofit improve its pledge program. However, if the pledge has been inactive for a year or more, we recommend removing the remaining open payments, and moving on.
6) Uncover and Follow Up with Lapsed Donors
Lapsed donors are supporters who have given previously, but not recently. During your database clean up, it is helpful to identify this group of people. Who are they? How long has it been since they've given? How can you reach out to them most effectively? Your donor database should allow you to do all of the above.
If you're curious to learn more about lapsed donors, see our previous blog post here.
7) Matching Gifts (Part A) – Confirm Matching Gifts
Matching gifts through employers often get lost in the shuffle. A suggestion for your spring-cleaning? Run a report in your donor database to determine donors who should be receiving matching gifts. Then, walk through those donors to confirm that those matching gifts have been collected.
If matching gifts are missing, reach out to the donor to determine a plan of action. Is your nonprofit responsible for contacting their employer? Should the donor be handling that side of things? What can you do to help? Matching gifts are easy revenue; don't leave them to collect dust!
8) Matching Gifts (Part B) – Confirm Company Names
The formatting of company names can be a doozy. Think: J&J vs Johnson & Johnson.
Whenever you are cleaning up your Matching Gifts program, it is particularly important to ensure the company name is entered correctly. A good way of finding duplicate companies and organizations? Search for duplicates based on address, rather than name!
9) Review Your Lists
Your donor database should allow you to create two type of lists –
Dynamic Lists: lists that update automatically in the background.
Static Lists: lists that are a snapshot in time.
Both types of lists should get a quick clean up at least once a year. Review your lists, determine which are still in use, which are beneficial for the long haul, and which can be discarded.
10) Create an Action Plan
Now it's time to take this list and put it into action! Ask yourself – which of Eleo's Spring Cleaning recommendations apply to you? If you're feeling overwhelmed, just pick two! This doesn't have to all happen at once. Be realistic and kind to yourself. Implementing a timeline can be your best bet. Set goals for when you'd like certain cleaning aspects finalized. And remember – any data cleanup is better than no data cleanup.
Once your donor database is gleaming with sparkle and shine, use the insights gained from these recommendations to set up scheduled cleaning plans for the future!
If you're using Excel spreadsheets, three-ring binders, or donor management software that isn't living up to your expectations, spring cleaning is a good time to migrate data to a platform that was built specifically for small nonprofits. Contact Eleo today to schedule a free demo!
Already an Eleo Client? Check out our Spring Cleaning Services!