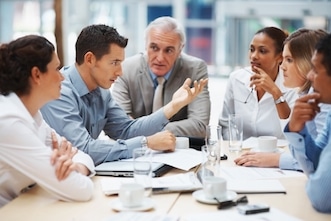 Like a well-oiled machine, every nonprofit needs dedicated employees, volunteers and donors to keep its operations running smoothly and efficiently. Other crucial components who shouldn't be overlooked are your nonprofit's board members. Your board is there to assume various fiduciary and governance responsibilities that are essential for your organization's overall success. They are the decision markers who keep your nonprofit on track for achieving its goals and adopting ethical and sustainable business and operational policies.
While they are not the people who will be heavily involved in day-to-day activities, they are the ones watching over the organization as a whole, ensuring that everything goes according to plan. Essentially, your board members are the ambassadors for your nonprofit. While they may be comfortable leading your organization in the right direction, some board members struggle and might have difficulty with the fundraising aspect of their role. To help them remain being strong ambassadors at your nonprofit, here are a few ways your board can fundraise without ever asking for money:
1. It's not always about the money
One of the first steps toward removing the negative stigma fundraising has for board members is to emphasize that fundraising doesn't always have to be about the money. Instead, fundraising is about creating lasting impact and change at your nonprofit. Even when your board members do have to ask people for money remind them that donors are happy to give money – and that they shouldn't be ashamed to be a part of the process. After all, it's not about the money; it's about the impact people's time and resources have on an organization's mission.
2. Focus on cultivation, not first-time donations
Your current donors are the people who are most likely to continue to donate to your organization in the future. Why is that? This is because they already are invested in your mission. Instead of encouraging your board members to seek out new, first-time donors, have them focus on cultivating current donors instead. Assign each board member a few donors who they can be responsible for connecting with to update them on how their gift is making an impact. This way, each of these donors will feel their contribution is valued and may be more likely to remain with the organization or give more or with greater frequency.
3. Enlist them as tour guides
Have your board lead tours of your organization's facility. Many people want to see exactly how their donations are being used, which is why private tours can have a major impact on giving. Instead of simply being shown a few pamphlets, slides or photos about what their donations can do, they can see your nonprofit's employees and volunteers hard at work, making a difference for the people they serve. They will leave with a clear understanding of your mission and may be more likely to donate in the future.
"All board members should be active donors for your organization."
4. Appeal to their strengths
Maybe some of your board members have connections in the media or businesses in town. Whatever is the case, encourage your board to take on new projects that will increase community awareness and appeal to their own particular strengths. This can be anything from hosting intimate community gatherings for potential donors to writing letters to the editor of the local newspaper.
5. Are they donating?
It's important to realize that all of your board members should be active, generous donors for your organization. While gifts come in various sizes, they should all be contributing to your organization in a meaningful, lasting way. Your board members can be ambassadors for your nonprofit through their willingness to donate themselves. Essentially, they should lead by example, showing their friends, family, colleagues and others in the community just how much your organization means to them. They also can share their experience as a board member with others.
Your organization needs to make the most of its board members' abilities to engage your community and foster important donor relationships. Fundraising and donor management software can make this easier and more effective. To see how, sign up for your free trial of Eleo Online today!