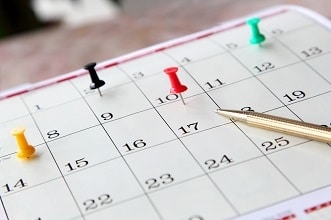 Successful fundraising calendars begin with people simply sitting down and creating a plan. It's vital for your organization to define this plan early on, because haphazardly organizing events and campaigns during the middle of the year can turn into a disaster. After all, Benjamin Franklin once said, "If you fail to plan, you're planning to fail."
Before you begin, you must lay the groundwork. To set your organization up for long-term success, here are the first four steps to take:
1. Everyone needs to agree to the plan.
First, you must gain consensus from everyone involved. If certain staff members or volunteers are not on the same page, you may encounter pushback or difficulties later on. This is why you want the right people creating the plan. You will want to include a mix of people with plenty of experience, new perspectives and a passion for the work.
2. Review and analyze past fundraising strategies.
This is where you see what worked and what did not over the past year. Focus on hard data and results from specific campaigns or fundraisers. Ask your team some of these hard questions:
What was the total amount raised?
What were the biggest successes or challenges?
How many new donors did these efforts draw in?
How many of those donors are still giving?
"Create a fundraising calendar that is feasible."
3. Evaluate your resources.
Your fundraising strategy will largely depend on your available resources. To create your plan, consider how many people you have on board, from committee members to volunteers. Additionally, evaluate your budget, finances and the probability of gaining more major donors or public support.
4. Create a plan that is practical and can be successful.
Ultimately, you want to create a fundraising calendar that is feasible for your staff to accomplish. Take small steps, but be proactive about your planning efforts to be successful. For example, Gail Perry explains how your organization could dedicate the month of February for ramping up your messaging skills by telling specific stories about your nonprofit. March could then be about drawing in major donors, and April could center around cultivating these donor relationships. Essentially, design your plan around donors and prospective donors. Here are a few specific ways to do this:
New donors: For these first-time donors, you want to build up your email list, ramp up your social media engagement and include more fundraising events in your community. Encourage your current donors to invite their friends to these events, which might encourage them to become donors themselves.
Current donors: The 2016 Fundraising Effectiveness Survey found that the donor retention rate was only 43 percent, while the gift retention rate was 47 percent for certain nonprofits. Lynne Wester, a donor relations guru, wrote on her blog that donor retention efforts should be more than a buzzword for nonprofits, it should be a lifestyle. To retain donors, your nonprofit needs to keep them up to date about your work, thank them and host donor recognition events.
Upgrading donors: While new donors and donor retention efforts are important, so is upgrading your current donors. You want to move your donors to a higher level, whether that means more frequent donations, a naming opportunity or larger gifts.
To create an effective fundraising calendar, it is important to be able to turn to your donor database for the critical information you need surrounding your donor giving history, event fundraising results, and other important factors. To manage all of your fundraising efforts and donor relations turn to Eleo online donor management software as the perfect answer.