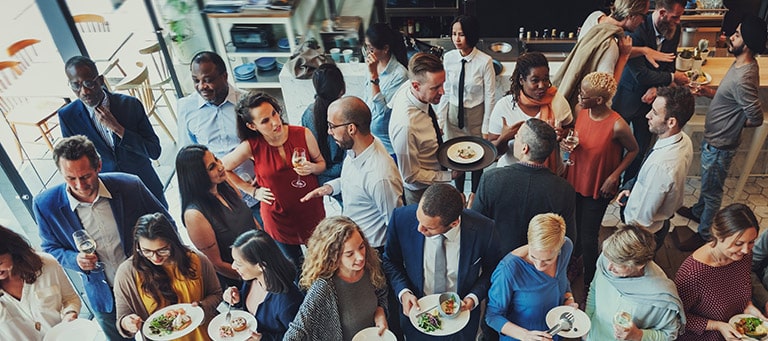 If you weren't quite ready last year, now is the time for small nonprofits to bring back in-person events!
Your small nonprofit can harness the natural desire for people to get together to make in-person events more successful than ever while taking simple steps to ensure the safety of your guests. People don't want you to dwell on the COVID years, but most will appreciate your efforts to create a safe environment!
Here are seven tips to make events successful and safe for small nonprofits.
1) Choose the Right Location
Cramped quarters were a drag long before Covid. Choose a space with room for people to social distance if they choose. Because people love being outside again, holding your events outdoors is a great option. You can also have some activities inside and some activities outside!
Keep in mind that some venues still have Covid protocols (proof of vaccination, masks, etc.) and lower maximum capacity requirements. Make sure you're aware of any restrictions and see if you can get a flexible contract that allows you to modify your plans under certain circumstances.
If your nonprofit is considering a requirement to show proof of vaccination or a recent negative test and the vendor says this is completely off the table, keep searching. When you choose a vendor whose values and views are aligned with yours, you're more likely to be able to work out an arrangement that works for everyone!
2) Offer Options for Participating
Most people are ready for in-person events. Some are not. Just like you give people options for donating (online, check, phone, etc.), offer options for participating in your in-person events for people who are uncomfortable attending or unable to attend for health reasons.
If you plan to have some form of entertainment, like music, a comedy show, or games, consider offering access to a livestream of the event for a discounted rate or open donation. If you're having an auction, take advantage of technology to allow people to participate remotely!
Of course, some people are happy to offer their financial support without direct involvement in your event, so make sure you have an option for people to simply donate.
3) Promote the In-Person Experience
The best way to draw people to in-person events is to create an experience that people have to see up close to truly appreciate and enjoy. In other words, give people compelling reasons to show up!
For example:
Live entertainment (music, comedy, acrobatics, magic)

Fun games, competitions, and contests

Food from a well-known restaurant or caterer (everyone missed going out to eat!)
Remember, people can't wait to see other people and be entertained! Show photos of people laughing, smiling, and having a good time when you promote the event so they're reminded of what they've been missing.
4) Serve Food Safely
If you're offering food at your event, consider the service and dining experience. Should servers wear gloves and masks? Will attendees be sitting in relatively small groups for short periods of time? What are the caterer's safety protocols?
At this point, buffets and long, sit-down dinners with tables of 10 probably aren't a good idea. Think about seating arrangements that allow for space and movement, and talk to your caterer about their approach to serving food safely.
5) Make Sanitizer and Contactless Technology the Norm 
People like to have sanitizer available. They enjoy contactless experiences when shopping, picking up food, and registering for events. These are two good things to come out of the pandemic, so keep using them!
Keep sanitizer bottles or dispensers available at your nonprofit's events and consider using contactless technology like touch-to-pay tools (Apple Pay, Stripe, Google Pay), text-to-give for contactless donations, and various mobile apps that allow you to automatically exchange information.
Although a mask requirement is likely to affect attendance, it's a good idea to at least offer masks to attendees. Your local print shop or promotional products company can probably create branded masks for your event!
6) Send a Survey
If your small nonprofit is planning a major in-person event and you're not sure if people will attend, ask them! Ask people if they'll go to the event and why or why not. A simple survey can help guide your decision-making process on how to structure your in-person event and what options to offer.
7) Communicate Before and After
The return to in-person events for small nonprofits is a big step after the last two years. The best way to put people's minds at ease is to communicate expectations clearly and transparently!
Explain how distancing can be maintained, especially if the event is held indoors. Talk about the event space. If you're serving food, explain your safety protocols. If you'll have vaccine requirements and/or rapid testing, let people know.
Follow up after the event to thank attendees and encourage them to contact you if they're experiencing Covid symptoms so you can contact other attendees. Transparency and fast communication are key!
Let's be honest. Even people who are apprehensive about in-person events don't want to see people in little squares on their computer monitors anymore. You did what you had to when you had to, but people are craving personal interactions. Start taking steps now to make your nonprofit's return to in-person events as successful as possible!