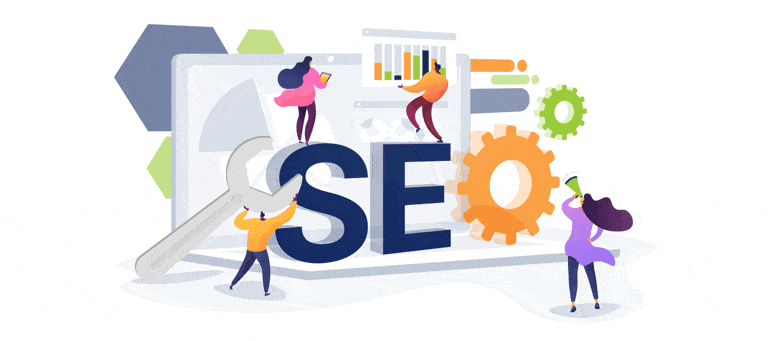 Small nonprofits are facing more competition than ever. This bump in competitiveness requires small nonprofit organizations to adopt a more strategic, data-driven approach to fundraising and marketing. Essentially, when it comes to online presence, small nonprofits now have to operate like large nonprofits just to keep up!
As a result, the list of online fundraising and marketing "must haves" for small nonprofits has grown. A website is a must have. Donor management software is a must have. A strong, active social media presence is a must have. Effective online fundraising pages are a must have. 
However, what happens when you have all of these tools but no one can find you online? 
Enter: SEO, Search Engine Optimization.
SEO is one of those marketing terms that is widely known but not widely understood. While used religiously by for-profit businesses, nonprofit organizations tend to shy away from SEO strategy. However, small nonprofits can reap huge rewards from just a bit more SEO understanding. And, with the right SEO strategy, small nonprofits can create a competitive advantage in an ultra-competitive nonprofit landscape!
What Is SEO?
SEO, or search engine optimization, is the practice of making your website more visible to search engines, like Google, as they sort through billions of web pages to find the ones that are most relevant and useful to the search user.
SEO increases the likelihood that your small nonprofit website will appear higher in search results when people search for nonprofit events, educational resources, and not-for-profit causes that are related to those offered or supported by your organization.
SEO shouldn't be confused with pay-per-click (PPC) search advertising, which involves paying search engines a certain amount of money every time someone clicks on your ad (text, display, video, etc.).  
Unlike PPC, the goal of SEO is to improve your search ranking organically. SEO takes time and patience, but it also delivers longer-lasting results. With PPC, the benefit generally stops when you stop paying to advertise.
Although SEO is not an exact science, these are some of the top factors that influence your ranking on Google:
High-quality, optimized content (content that has substance and includes keywords that people search for)

Mobile-friendliness (how easily your website works on mobile)

User-friendliness (how easily users can navigate your website and find relevant information)

Page speed (how quickly your web pages load)

Internal and external links (links to your website from other websites and links to other websites from your website)

Technical SEO (optimizing your website's code, page titles, headings, meta descriptions, alt tags, etc. to make them more visible to search engines)
Why SEO Matters for Small Nonprofits
As stated earlier, there is more competition than ever for small nonprofits. Even if you have a prime physical location in a highly visible building with a ton of foot and car traffic, people need to be able to find you just as easily online. People search online for causes, events, and educational resources just as they would search for a new computer or a place to go for dinner! 
Suppose you're an animal shelter. Now, let's say someone moves to your town who has a passion for animal welfare. This person hopes to find a nonprofit in their new town where they can volunteer and donate. So, what do they do? They Google 'animal shelters near me.' The better your SEO, the more likely that new supporter will find you right at the top of Google's search results.
A higher search engine ranking is like a bigger sign hanging in your window, a bigger ad in the local newspaper, or large billboard on the side of the road. Each search could be an opportunity to build awareness for your mission and connect with donors, volunteers, corporate sponsors, strategic partners, and board members!
When you show up in search results, you send the message that your organization is legitimate, you can be trusted, and your cause is worthy of a donation!
How to Get Started with SEO for Small Nonprofits
SEO is complicated. The technical requirements for SEO change on a fairly regular basis. Just remember that the ultimate goal of Google and other search engines is to be able to "think" like people who use their search engines.
Focus on developing web pages with the website visitor in mind. What information do they want? What photos and videos would they like to see? How can you make your website more helpful, useful, and easier to use?
Consider partnering with an SEO consultant. They can run your website through sophisticated tools that show what areas can be addressed to improve your search ranking. This allows you to focus your budget and resources on specific areas that will make a bigger difference! Given the fact that SEO is a long-term process, an SEO consultant can also be a valuable long-term partner who can help you update your strategy as needs and goals change.
Don't be afraid of SEO! It might seem a little overwhelming at first, but the long-term benefits far outweigh a little confusion at the beginning. Consider checking out Eleo's Consultant Community to partner with someone to help your small nonprofit make its way up search rankings!