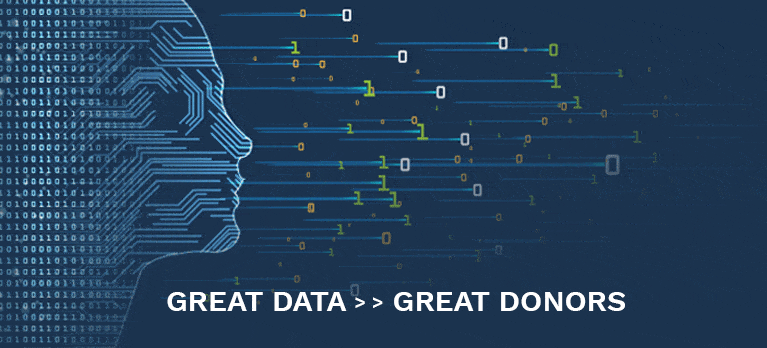 Organize Your Efforts and Maximize Donation Potential
At every interaction with your supporters, you have an opportunity to learn from the data created and stored. If you aren't used to data management, it's a lot of information that doesn't look all too informative at the beginning. Understanding how this information can be useful to your nonprofit is not immediately obvious. In fact, the more data you accumulate, the more daunting it can be to decipher it. Data can come from your:
Donor Database

Email Marketing Tool

Event Management Tool

Online Fundraising System

Social Media Channels

Surveys

Website
You've been told this data is useful, but you're not a business analyst or an IT specialist, just someone trying to make the world a better place. With the help of consultant community partner, Maureen Walbeoff, we put together a few key pointers to follow when you are starting your efforts at donor information management. Check out these 5 useful tips to keep in mind when you dive into your data:
1. Plan Data-Driven Campaigns
Before planning any new marketing campaigns, use your donor data to see how your previous efforts have been received. What time of year are your donors most likely to give? Do donors respond better to a text-to-give campaign, a fundraiser, or an event like a silent auction? Answers to these questions are hidden in your data!
2. Identify Major Gift Prospects
One pattern that seems to be universal to nonprofit data is that sizeable charitable donations come from a few individuals, while the majority of donations are in small denominations. In your donor data, you will be able to see who has given how much, but also indicators showing how much someone is capable of giving and which charities they are most likely to give to. Identifying the most likely donors helps you cater donation campaigns and efforts specifically to them.
3. Segment Donors
Organizing donors by interests, likeliness to donate and other categories is the bread and butter of data management. You can identify the donors who have been contributing the longest and cater a campaign to them that acknowledges their long-standing generosity. If the donor has been around for that long, they will appreciate that their efforts are remembered and recognized by your nonprofit. 
4. Maximize Matching Gift Revenue
One of the very basic pieces of information compiled about your donors are employers. Many employers in the U.S have a charitable donation matching program in their corporation. However, not all employees are aware their company offers this program. If you crosscheck your donor's employment against a list of companies that are known to match charitable contributions, you could increase your donations right away! 
5. Optimize Outreach and Encourage Retention
The most important thing to keep in mind as you are sifting through all of your data is that you are learning about your donors, real people. If you know a number of your donors do not like to receive phone calls, you can create an email campaign for them. Not only does this increase the potential of a donation, but your donors will appreciate that their preferences are being respected. This is the difference a nonprofit can make when they take the time to decipher their data, you really get to know the people who support you!
---
Taking advantage of the information you have available means you are making decisions for your nonprofit based on real-life, actionable data, not just your intuition. Over time, getting to know your donors and your data will be a natural part of your nonprofit marketing strategies. 
If you are still feeling overwhelmed by the various ways you can use your data, watch the short webinar Eleo and "Accidental Techie", Maureen Walbeoff, put together to get the most from your accumulation of donor data. You can watch it here to learn how to improve your donor interactions!