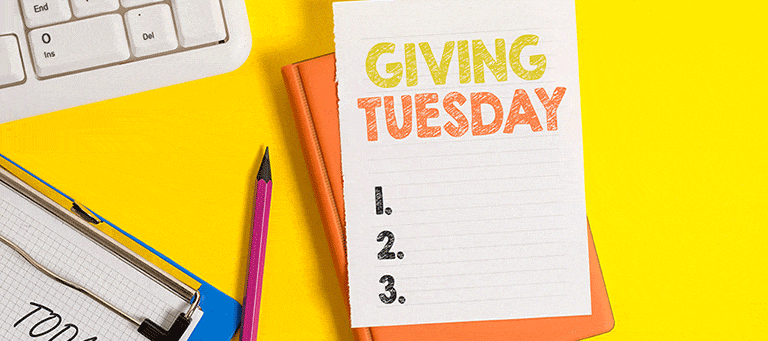 Every year since 2012, Giving Tuesday has kicked off end-of-year fundraising. More than a single day of action and excitement, Giving Tuesday has evolved into a movement that can help small nonprofits expand their support, increase giving throughout the year, and create more impact.
Consider the growth of Giving Tuesday since its inception, according to Nonprofits Source:
2012: $10.1 million
2013: $28 million
2014: $45.7 million
2015: $116.7 million
2016: $168-$177 million
2017: $274 million
2018: $380 million
Giving Tuesday donations grew a whopping 38.8 percent from 2017 to 2018, which begs the question – what are you planning for Giving Tuesday on December 3, 2019? Giving Tuesday is a fast-and-furious, once-a-year event with tons of build-up. How can small shops make it truly memorable and raise as much money as possible?
Put a new twist on Giving Tuesday! Incorporate fresh ideas to rally your team and your donors. Here are five ways your nonprofit can boost Giving Tuesday fundraising and generate more impact for your mission.
1) Partner with Fellow Nonprofits
There's a trend towards removing the stigma of competition and recognizing that small nonprofits can accomplish more together than they can separately. When you partner with other local nonprofits to promote and host a Giving Tuesday event, you bring more attention and more donors to the event. You open the eyes of supporters to what's happening in your local community.
A donor might not be able to give $100 to each nonprofit, but they'll gladly give $25 to four organizations because they know their gifts will touch more people. We recommend partnering with similarly sized nonprofits so all share equally in the work and the reward.
2) Host an Unplugged, Offline Event
As easy as it is to donate online and instantly share event photos on social media, in-person interaction is still critical to successful fundraising. There's something to be said for being present at an event without the distraction of technology.
When planning your Giving Tuesday event, look for a venue with limited cell phone service or simply encourage attendees to shut off their phones. Give donors opportunities to speak with those who have been helped by your nonprofit. Only accept donations during the event while donors are immersed in the experience. When people are caught up in the moment, they're more likely to give larger donations.
3) Work with a Larger Foundation
Large community foundations and federations often support many smaller nonprofits. They fundraise and host events on behalf of the foundation but then distribute funds to associated nonprofits that focus on certain types of charitable programs. This allows foundation donors to choose specific causes for their gifts, while smaller nonprofits capitalize on the larger reach, and visibility of the foundation.
This is more of a behind-the-scenes idea. See what foundations are doing for Giving Tuesday and find out how you can get on their radar. While you host your own Giving Tuesday event, you could also be raising money from the foundation's campaign.
4) Create a Theme
A theme can make your message easier to communicate and understand. For example, an animal shelter might focus Giving Tuesday on 'Dog Food'. If that's the theme, create food stations at your event. Make food a central focus through social media, email, direct mail, and other marketing platforms. Contact restaurants about matching gifts and hosting your event. See if a local pet store will donate a portion of dog food sales. The idea is to weave your theme into your entire Giving Tuesday agenda to keep things focused and simple.
5) Promise Something in Return
The executive director of a small nonprofit in Idaho promised to take the polar bear plunge and jump into a frigid lake if their Giving Tuesday fundraising goal was reached. She said her family would join her if donations doubled the original goal. The nonprofit ended up funding nearly its entire operating budget in one day!
Cut your hair and donate to Locks of Love. Let students duct tape the principal to a wall. Have a well-known local figure sit in a dunk tank for an hour. People are more likely to donate when you promise them a fun incentive for reaching your fundraising goals.
Do you have fresh ideas that small nonprofits can implement to put a new twist on Giving Tuesday? Share them on our Facebook page!