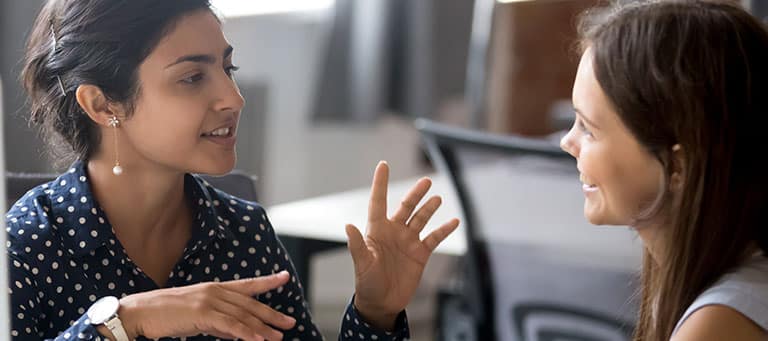 Whether it's a limited budget or lack of time, nonprofit organizations can struggle to onboard new staff effectively. New employees are oftentimes expected to learn the ropes quickly and independently, leading to rapid burnout and high turnover. One of the key pieces to retaining your new staff is to create a robust nonprofit onboarding process.
Take a quick read below to learn the 5 steps to successfully onboard new nonprofit staff.
Nonprofit Onboarding Tip #1: Post an accurate job description
The first step to successful nonprofit onboarding begins before you even receive applications. Enter: job descriptions. It is critical that the job description you post online matches the job the individual is about to engage in. Do not have people show up to orientation and expect them to fill a role they didn't sign up for. In short, be sure your job posting is accurate and that responsibilities align with the title.
Tip – Avoid "hustle culture" language in your job posting. Gone are the days of the "work 'til you drop" mentality. New hires are looking for balance, flexibility, and reasonable payment for services provided.
Nonprofit Onboarding Tip #2: Be in touch with new hires prior to their start date
When it comes to bringing a new nonprofit employee into the fold, earlier is always better. A few recommendations are:
The direct supervisor (not HR) should touch base the same day the new nonprofit employee accepts your offer. A friendly, organic welcome email is perfect!
HR should promptly send an easily digestible nonprofit onboarding welcome packet. This will include a letter from the Executive Director, a brief overview of your mission, what they should expect in the coming weeks, a calendar for their onboarding events, any forms they need for orientation, etc.
Nonprofit Onboarding Tip #3: Host an engaging orientation
The word 'orientation' usually stirs up eye rolls and feelings of boredom. This is because orientations normally involve sipping bad coffee in a cold conference room, listening to repetitive lectures, and watching dated informational videos. It's your job to make sure this is not the case for your nonprofit onboarding orientation.
Orientation should typically last at least a week, and include a lot of interactive experiences. Consider options like – playing games, bringing in current staff for Q&As, and taking field trips. Of course, while some of the more boring facets of an orientation are unavoidable, creating an upbeat, bright, and inviting space can be incredibly impactful. Providing things like – quality beverages, tasty snacks, and even a popular music playlist are small tweaks that can be game changers to creating a positive atmosphere. Additionally, incorporating your recipients/clients to share a few success stories, in person, is a great way to immediately showcase the positive impact your new nonprofit employees will be making.
Nonprofit Onboarding Tip #4: Implement a robust training process
Training is not a one and done deal. If you want your nonprofit onboarding process to feel cohesive and supportive, training should span at least 3 months. What does effective nonprofit onboarding training look like?
Successful completion of orientation, including all HR documents
Observational learning for at least 3 additional weeks
Introductions and regular team building experiences with current staff
Weekly check-in meetings with supervisor
Feedback surveys completed weekly
Scaled support – providing the appropriate level of support as the new hire experiences growth and challenges
Tip! Try to avoid being a training helicopter parent! Finding a balance between autonomy and support can be tricky. Providing a new nonprofit employee their own project to work on independently in those initial weeks can be very motivating. Assure them that the initial project is just for practice and doesn't impact their employment status.
Nonprofit Onboarding Tip #5: Pair the new nonprofit employee with a mentor
Once those exciting initial weeks of nonprofit onboarding are complete, it's imperative that your onboarding plan go a step further. Mentorship is key in driving your new nonprofit employees' continued engagement and learning. The mentor is there for questions, shadowing experiences, creative brainstorming, etc. By pairing the new hire with a seasoned employee, your organization creates a culture of togetherness, support, and community. Mentorship programs should last at least 6 months after the initial hire.
Tip! If the new nonprofit employee is high level (Executive Director, President, etc.) choose a mentor that has proven longevity within your organization and has established connections with all other staff. The individual may not be "above" the new hire, from a status perspective, but they should be a well-known individual within the nonprofit.
Conclusion:
The key to successfully onboarding new nonprofit staff is to create an environment of extended support. From the initial job description, to hosting an inspiring orientation, to providing long term mentorship, your new nonprofit employees should never feel misled or alone. By implementing these 5 successful nonprofit onboarding strategies, your organization will improve company culture, retain more employees, and set up your staff to thrive.
Want to learn more about nonprofit employee retention? Stay tuned for Eleo's future blog on how to keep nonprofit employees, long term.