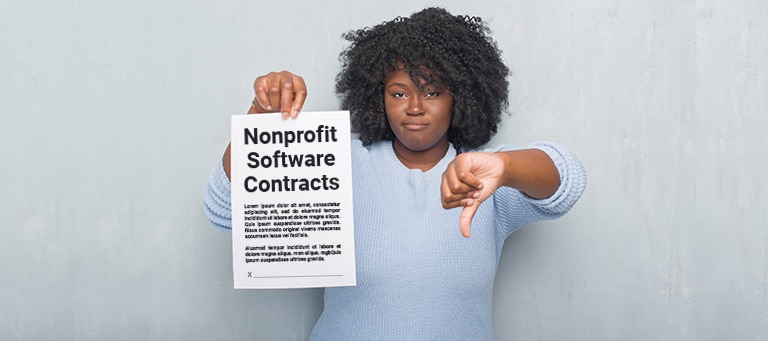 Recently, there has been a lot of buzz in the donor management software sphere. From questions about backups, to hosting platforms, to contractual agreements, small nonprofits are asking for more transparency and reasonableness from their donor management system.
To this point, a few weeks ago, Eleo received an email from a nonprofit representative that was interested in switching software. At the time, their information resided within a much more expensive donor management system. The more expensive system had been implemented by this person's predecessor and former employee. When the employee left the organization late last year, the nonprofit discovered that the individual had signed a long-term contract with this exceptionally pricey software, just a few months before their exit.
The year of 2019 did not go well for the nonprofit. The pandemic hasn't helped matters either. They've consistently fallen short of their fundraising goals and up until now, still hadn't begun use of the costly donor management software.
Under the circumstances, a request to cancel the contract seemed reasonable. However, the small nonprofit was surprised to learn that nothing of the sort could happen. The expensive donor management software refused to facilitate a cancellation or a refund, because the agreement was signed for 2 years. The nonprofit was told that the two-year contract must be honored and paid in full.
Unfortunately, this is not an isolated incident. We've heard nearly the same story, time and time again. Small nonprofits that could not escape long-term contracts, even if they were unsatisfied or facing serious financial hardship.
Our intention here is not to disparage other donor management software providers. For small nonprofits in particular, our hope is to point out the risks involved with long-term contracts. Nonprofits dedicate their existence to helping others. They should be surrounded with systems that, in turn, want to help them.
So, what are the risks of long-term contracts for small nonprofits?
First and foremost, the system could be a poor fit. You've tried the software for a few months and it is not what you expected. Reports could be too difficult to navigate; mailings may be too complex; or your nonprofit could possibly require different modules than previously expected. A long-term contract can prevent you from having your needs met.
Secondly, budgets can quickly and unexpectedly change. As we have witnessed with COVID-19, life (and therefore financial situations) can be wildly unpredictable. If your small nonprofit is locked into an expensive agreement for multiple years, you may not be able to make the appropriate budget cuts to stay afloat.
A third risk involves re-upping your contract. Usually renewals for long-term contracts occur automatically. We hear regularly that nonprofits receive no notice, no email confirmation, no correspondence to inform them that their contract is nearly up. The responsibility therefore lies solely on the nonprofit to know when their contract ends, contact a representative within the appropriate time frame, and handle all of the associated paperwork.
And finally, it doesn't offer real-time room for growth. What if the needs of your nonprofit change? What if you are shifting your fundraising strategies? What if you have staff turnover and your users need to be modified? Small nonprofits require flexibility. The donor management software that you choose should be able to accommodate, grow, and change with you.
If you're struggling with long-term software commitments, reach out to us. Eleo requires no contract. We are strictly month-to-month, providing the ability to cancel at any time. Every module, all support, each feature – it's all included. Our goal is to ensure small nonprofits are having their needs met. We want you to stay because you love your database, not because we are forcing you to.
Learn more about why you should MAKE THE SWITCH TO ELEO.
For a demo of Eleo, CLICK HERE.