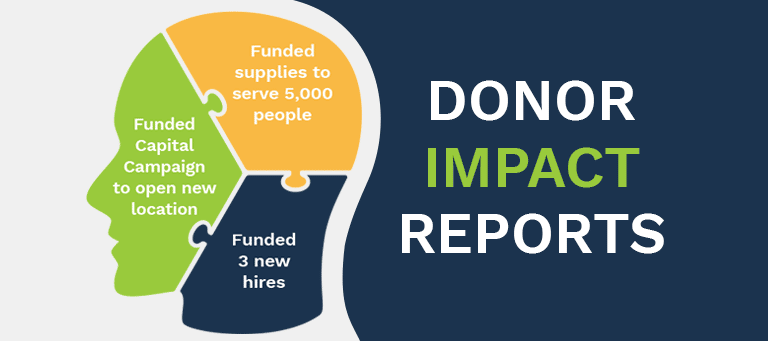 Most nonprofits send newsletters throughout the year. Sends could occur weekly, monthly, quarterly, or somewhere in between. Newsletters provide information about everything from upcoming events and fundraising recaps to new hires and program updates. 
Social media is more of an engagement and marketing platform that can be used to keep the nonprofit top-of-mind, promote events, and build awareness for the mission.
The annual report provides both detailed financials and a big-picture overview of accomplishments. It's also an opportunity to thank supporters and build a stronger case for donating. The annual report is a long form summary of your yearly impact.
A donor impact report is different from all other forms of communication discussed above. A donor impact report's sole purpose is to show donors a few times throughout the year how their gifts are making a difference. As the name suggests, it demonstrates impact!
What Is a Donor Impact Report for Nonprofits?
A donor impact report connects the dots between fundraising and real-world impact. While fundraising data is an important part of a donor impact report, you build stronger connections with donors by telling the stories of how those gifts are making a difference. 
These reports typically include text, photos, graphics, charts, interviews, and videos to communicate impact in a way that's engaging, compelling, and fun! The faces and emotions that validate the outcome of fundraising are at least as important as the numbers.
Donor impact reports are typically distributed three or four times a year, providing supporters with an insider's perspective of what was accomplished. 
For example, instead of simply saying a certain program raised X amount of dollars and X amount of people participated, a donor impact report might also include whether the donor participation rate and total funds raised met the nonprofit's expectations and how the organization will move forward as a result. Also, a report will often include an individual donor's experience of why they gave and their connection to the nonprofit's mission.
This is a great way to share wins and losses and the stories behind them! Wins make people feel good about supporting your nonprofit. They take pride in the accomplishments. Even losses, when communicated the right way, will motivate people to ramp up support to help your organization achieve its goals. When it comes to impact reports, honesty is the best policy!
How Donor Impact Reports Fit into Your Nonprofit's Communication Strategy 
Donor impact reports provide several important touch points and opportunities for engagement throughout the year, supporting both marketing and donor retention efforts. 
From a marketing perspective, stories of impact can bring more attention to your mission and show prospective donors that the nonprofit is worthy of their gift. From a donor retention perspective, donors are more likely to continue giving if they feel an emotional connection to your organization and are confident that their gifts are making a difference!
Some of the information and content you share in your donor impact reports will overlap with newsletters, social media, and your annual report. That's okay. Some things are worth repeating! That said, it's a great idea to give your donor impact reports their own name and branding so they stand out from other communications.
Because their sole purpose is to communicate real world impact and donors typically love that type of content, donor impact reports could very well be the most anticipated deliverable that your nonprofit produces!