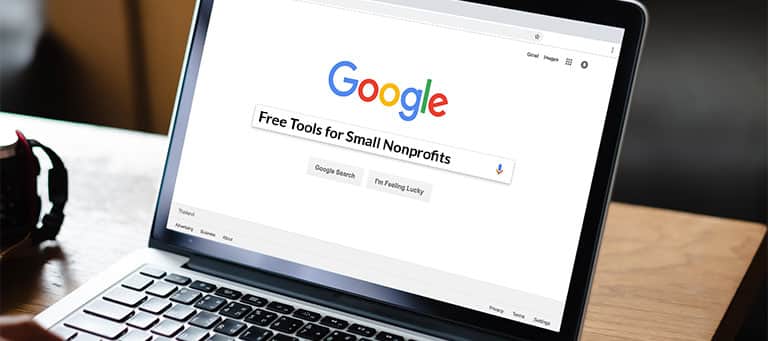 As a small nonprofit, online presence is everything. Unfortunately, that presence can be expensive. As small nonprofits continue to invest in their digital footprint, it's important to know what technologies are available that won't break the bank. After exploring a number of free digital tools, Google for Nonprofits really stood out. What is Google for Nonprofits? And, what can it do for your small nonprofit? Below we will break down Google for Nonprofit offerings and discuss the functionality of these free digital tools.
#1 Google Workspace 
If you have ever had a Google account, you may already be using some of the features of Google Workspace. Google Workspace provides tools like – Gmail, Google Calendar, Meet, Chat, Drive, Sheets, and more. Whether you're looking to plan your yearly fundraising strategy, share and edit files with your team, or develop a deck of slides to pitch a project to your board, Google Workspace provides resource rich tools to get nonprofit projects done effectively.
Arguably, the greatest benefit of Google Workspace for small nonprofits, is access to a free custom email domain. What does this entail? It's a common scenario – you're a small nonprofit trying to save money, so you create an email in the following format – [email protected] or [email protected] While these emails identify your nonprofit, the use of 'Gmail' as your domain is unfortunately unprofessional and presents as fraudulent. To increase trust with potential donors and to come across as professional, your small nonprofit needs a custom email domain. This is why Google for Nonprofits' offering of a free custom email domain plus unlimited email accounts (i.e. [email protected] or [email protected]) is indispensable.
Overall, the value of using a collaborative Google Workspace as a small nonprofit cannot be overstated. With the focus on keeping your team connected, organized, and professional, Google Workspace allows your small nonprofit to optimize your time and energy, at no cost.
#2 Google Ad Grants
First and foremost, let's answer the question – what are Google Ads? When you search in Google, you will see sponsored or paid ads at the top of your search screen. These are highly coveted spots and can be incredibly expensive to land. Behind these first page advertisements are usually companies that have tediously strategized and executed a very well-funded marketing plan.
So, what does this have to do with your small nonprofit organization?
Google Ad Grants was designed to level the playing field. This digital offering will give your nonprofit organization the chance to gain real time exposure to anyone searching via Google. By providing $10,000 per month to your small nonprofit, Google gives your organization the invaluable ability to create and post pay-per-click text ads. When used correctly, this generates a massive leg up in raising awareness about your cause, attracting new donors, and bringing more people to your website.
Of course, learning and using Google Ads can take some patience. Within the Google Ad Grant realm, you are given access to their full ad portal. This allows you to manage and measure your campaign's success as well as the ability to connect with Google Ad Grant experts. So, while this offering tends to be a bit more intimidating for small nonprofits, Google provides supports to help in your nonprofit's success.
#3 YouTube Nonprofit Program
Video, video, video. As the digital marketing space (both for profit and nonprofit) shifts it's focus almost entirely to motion picture, small nonprofit organizations can be quickly left behind. Video curation and editing is a realm that's generally very expensive and particularly time consuming.
Google's YouTube Nonprofit Program is again, hoping to close this gap. When accepted into the program, your small nonprofit will benefit from – unlimited external links (the ability to link to your website straight from the video), access to all YouTube Giving features (like live 'donate now' buttons shown across your film), and access to Google's Creator Academy (free online lessons to optimize your videos). As a small nonprofit, the key to using this free digital tool effectively will be to dive into the section of Google's Creator Academy developed specifically for nonprofit video creation. Even if you're not an award-winning director, these nonprofit guides and tutorials are beginner centric and easy-to-digest.
Access to YouTube's Nonprofit Program allows your small nonprofit to learn about proper online video curation and develop high quality video content. In the fast-paced world of fundraising, the benefits of increasing your digital marketing abilities as a small nonprofit cannot be overstated.
#4 Google Earth and Maps
 Whether you're headed to a park in the countryside or to a friend's house in the city, you've probably used Google Maps for directions many times. But, why would Google Maps help your small nonprofit organization and what does it have to do with fundraising?
Enter: data visualizations.
Google for Nonprofits is offering up exclusive access to Google Earth and Maps by creating an entirely new world for sharing your nonprofit organization's impact. Using this free digital tool, you will be able to map things like – where you've helped in your local community, numbers of members served, live locations of resources, and more. You are then able to showcase these real time maps and data visualizations directly on your website and other online materials.
People love a good infographic. Now, imagine one that's interactive and constantly updated. This is what data visualizations provide. The ability to see real world impact, in real time, matters. It fosters a deeper connection with donors and a raw dynamic with your supporters. This, in turn, leads to larger donations and longer relationships.
CONCLUSION:
While Google is a behemoth for profit company, Google for Nonprofits is the real deal. By providing free access to essential and relevant digital tools, they are leveling the playing field between multi-billion dollar philanthropies and small town soup kitchens. From team management, to professional email, to video curation, to data visualization, and beyond, small nonprofits should be able to find a few free digital tools that fit their wants and needs. Curious about your eligibility? Click here.