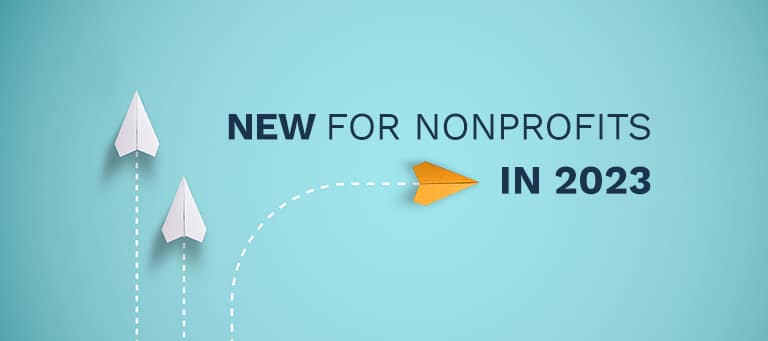 The New Year is upon us! As we head into 2023, it's important for nonprofits to stay on top of new trends in the nonprofit industry. From fresh fundraising strategies to new nonprofit tech, the nonprofit world is always evolving. Below are 3 key trends that small nonprofits should look out for in 2023.
#1 Using Influencers and Gamers to Share Your Cause
The expectation that all nonprofits have an online presence has long been established. As the world wide web continues to change, so too must your small nonprofit's online strategy. Enter: Influencers and Gamers. From the looks of it, 2023 will call on nonprofits to use the sway of social media influencers and online gamers in a much larger way. This means, creating partnerships with people who have legitimate followings on TikTok, Instagram, and live gaming platforms.
It may sound far-fetched or out of reach, especially for small nonprofits. However, the reality is, partnering with people who understand social media and live streaming culture is the way of the future. The key here is for small nonprofits to understand that the influencer doesn't have to be a Kardashian! Finding someone with a few thousand followers is a great place to start. To get the ball rolling, simply search for hashtags related to your mission on Instagram, TikTok or gaming network, and see who is already posting about events or moments related to your cause. If you find someone of interest, message them directly to see if they'd be willing to partner with you and share your nonprofit's story.
#2 Diverse Board Representation
The well recognized 'wealthy, suit and tie' board member image is quickly becoming a thing of the past. As diversity and inclusion have become top cultural priorities at for-profit and nonprofit industries alike, the focus in 2023 will shift specifically to nonprofit board members. Why? Because while money talks, perspective and lived experience matter. And, diversifying who 'has a seat at the table' is proven to benefit everyone.
What will this shift look like for small nonprofits?
It's important that a portion of your board begins to look like or represent the population you serve. This will mean that one or more of your board member seats is filled by an individual who successfully completed your program, utilized your services in the past, or is a well-known boots-on-the ground community engager. Additionally, creating 'junior board member' seats, especially if you serve a younger population, is a fantastic way to get young people involved at the top level of decision making.
#3 Multiple Payment Options
While this trend gained traction throughout 2022, in 2023 you will see it explode. From in person events to webinars to auctions, providing your supporters with multiple platforms and formats to make payment will be the difference maker.
What do we mean by payment options? Payment options can be split into two groups –
How You Pay – examples include ApplePay, Venmo, PayPal, GooglePay, and Credit Card
Currency You Pay With – examples include crypto, NFTs, stocks, and cash
While each group has its own benefits, both are important to focus on in 2023. As a small nonprofit, start with the 'How You Pay' group. Creating multiple avenues of payment opens the door for donors to give conveniently and securely. For example, at in-person auctions, instead of requiring donors to go line by line and enter all of their personal information, provide the option of ApplePay to simply tap their phone to the payment screen. It expedites and simplifies the process for everyone.
CONCLUSION:
While change can be intimidating, it is also necessary. In 2023 nonprofit trends, we will see small nonprofits increase their influencer and gaming partnerships, diversify their board member seats, and provide multiple payment avenues to their supporters. By focusing on these trends in the nonprofit industry, your small nonprofit can compete on a larger stage, promote inclusion, and ensure your relevancy for years to come.
Need help getting started on any 2023 nonprofit trends? Eleo has a team of consultants ready to work with you! Check out our nonprofit consultant network to get the ball rolling.