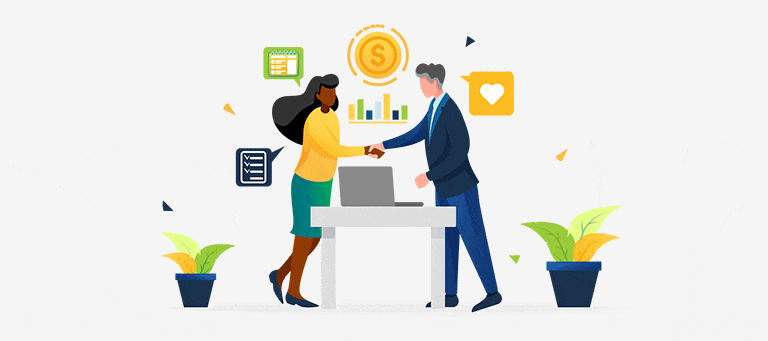 In the business world, the phrase 'social responsibility' has gone from trendy buzzword to top priority. The concept is fairly simple. Businesses need to show their commitment to initiatives and activities that do good for the communities they serve and society in general.
The emphasis on social responsibility is also easily explained. In light of recent events, people now expect more from corporations. Individuals want to work for and buy from companies with a purpose and culture that go beyond making money. In other words, they're more willing to support a business that stands for something!
As a result, there are probably more sponsorship opportunities for small nonprofits than you may think, which can lead to more awareness of your nonprofit, more successful fundraising, more volunteers, and more support for your mission. The first step for small nonprofits is to understand:
Different types of sponsorships
Keys to successful relationships between a nonprofit and businesses
How to find sponsors that are the right fit
Types of Nonprofit Sponsorships
There's so much more to nonprofit sponsorships than a business logo on your charity walk t-shirt or an ad in the program for your annual gala. These types of short-term sponsorships certainly have value, but small nonprofits need to think big and long-term!
A corporate sponsorship typically involves a large company contributing large sums of money to support a nonprofit's overall mission or specific activities, programs, or major events. Generally, the nonprofit will recognize the corporate sponsor on their website and social media pages, in donor communications, and at events.
Small businesses can offer similar support but at a reduced financial level. For example, a small business might sponsor a small event or a specific part of a larger event (ex: the Company XYZ auction table).
Large and small businesses can also serve as media sponsors by promoting nonprofit events through their own social media pages, blog, and email distributions or by purchasing advertising to reach a wider audience.
In-kind sponsors donate goods and services to nonprofits. For example, businesses are often willing to provide printing, office supplies and furniture, accounting services, apparel, transportation, etc. in exchange for promotion by the nonprofit. One Eleo client received hay for their horses from an in-kind sponsor!
Again, small nonprofits should approach sponsorships creatively and strategically. Develop different levels and types to widen your sponsorship pool!
Creating a Win-Win Relationship
Some nonprofits approach sponsorships as a series of transactions. You give us money, we give you exposure, and both parties walk away happy. However, the most successful nonprofit sponsorships focus on building a mutually beneficial, long-lasting relationship.
A long-term relationship makes the company look good while simultaneously broadening your impact. How? In addition to the company themselves giving money, it also opens the door for employees to engage. The company can offer benefits to employees who work with your nonprofit and fill their philanthropic "tank." Further, the employees then learn about what your nonprofit does. Your nonprofit invites them to events. You create volunteer experiences for them. You show them the real-world impact of your efforts up close. And maybe, they'll end up giving monetarily as well.
In the end, the sponsor company and its employees become ambassadors for your nonprofit. Each party develops a vested interest in supporting your mission and making a bigger difference.
TIP! When entering a sponsorship agreement with a new partner, be sure clarify expectations of both sides. For larger sponsorships, consider working with your attorney to develop a legal agreement. This will help you avoid disputes and confusion so you can maintain a friendly relationship.
Finding the Right Sponsors
Of course, you can only create a win-win relationship if sponsors are the right fit for your nonprofit. The search for the right sponsors often begins by tapping into existing relationships.
A good place to start is exploring your current network. For example, your board members probably have current connections with businesses who are familiar with your nonprofit. They may even already support you in some fashion. Try to learn more about these connections. If you find that some fit the bill for a sponsorship, spend time exploring how to nurture that relationship.
Another area to prospect is your bucket of "past sponsors." Maybe an organization sponsored your nonprofit a few years back; reach out and present fresh ideas that provide new value to their company. Similarly, previous vendors of your nonprofit are good candidates for sponsorships because they're already providing you with goods and services. Perhaps they would be interested in an in-kind sponsorship.
It's also important to think about proximity. Who are the neighboring businesses in your community? Local organizations love to support each other! When sponsors are close geographically, grass roots promotion such as signage and flyers can be beneficial for both sides.
Finally, reach out to businesses that align with your mission. For example, a soup kitchen or food pantry might appeal to restaurants, while certain types of medical practices would probably feel a connection with a nonprofit that raises money for breast cancer research.
Developing win-win sponsorships can be a game changer for small nonprofits! All aspects of sponsorships, from types of sponsorships to communication and event planning, can be managed through your donor management software. To learn how Eleo can support your sponsorship efforts, contact us to schedule a demo!