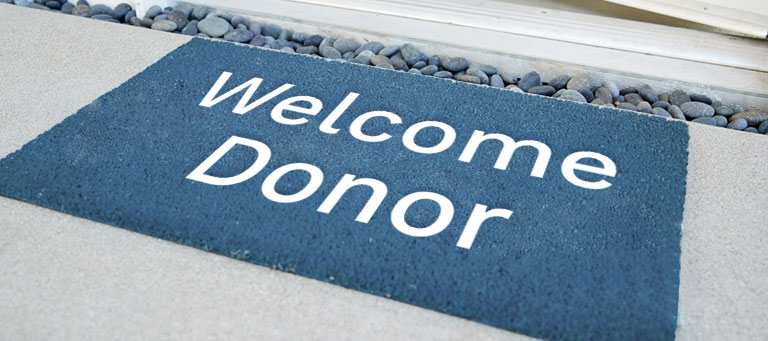 First time donor retention is a top priority for nonprofit organizations. Donor welcome kits are a tried-and-true way to help retain those first-time supporters. By mailing donors a package of your newsletter, a signed thank you, and some branded goodies, welcome kits introduce first time donors to your organization in an exciting way and show new supporters you appreciate their contributions, right from the start.
Welcome kits may be something you've always wanted to send but have never had the time or the budget. Luckily for small nonprofits, as most interactions have shifted online, the era of digital welcome kits has arrived.
What is a nonprofit digital welcome kit?
A digital welcome kit takes those hard copy pieces of a standard welcome kit (thank you letter, newsletter, branded goodies, etc.) and consolidates them into a digital offering via email. Digital welcome kits provide a number of benefits to your organization, such as –
An increase in first time donor retention
Savings in time, energy, and money
An easily editable document
Encouragement for long term donor engagement
Using a free design platform, like Canva, will allow your nonprofit to create a branded digital welcome kit quickly and easily. Now you may be asking – what exactly goes into a digital welcome kit? Let's talk through some options!
Pages to Include in your Digital Welcome Kit – 
Brief Introduction Page –

Quickly introduce your nonprofit and include your up-to-date mission statement.
If your nonprofit has an introductory video accessible via YouTube or other online video platform, embedding a link to that intro video is a great option.

Friendly Welcome Letter –

Draft a welcome letter crafted specifically for new donors. Keep the language upbeat and positive. Showing the fun side of your organization is key.
Tip – the letter should be from the Board President or Executive Director, and should include a digital image of their real signature in the sign off.

Digital Thank You Card –

Create a moving/interactive card to thank the donor for their first gift.

Introduction to Current Board Members –

Offer a list of board members with headshots and descriptions
Tip – Avoid overly formal images; headshots and descriptions should be friendly and inviting.

Communications Timeline –

In an infographic, show new donors when they should expect to hear from you. Transparency surrounding how often you plan to reach out is key.

Impact Page –

Provide real-time, real-life stories of who your nonprofit has helped.
Tip – If you have one, an impact video is a great option here.

Volunteering Page –

Introduce a few of your dedicated volunteers.
Provide a link for the new donor to register for volunteer opportunities.

Community Page –

Showcase who else your nonprofit works with in your local community. This could be for-profit organizations (local restaurants, gyms, etc.), other nonprofits, parks, etc.
If applicable and available, offer your new donor coupons to use at these establishments.

Survey

Offer a quick survey to provide feedback on their experience thus far and inquire about what they hope to see from you in the future.
Tip – the survey should be no more than 5 questions, and should provide a quick checkbox answer template.

Sign Off Page

Say a quick goodbye, a final thank you, and remind the first-time donor of how to get in touch.
Tip – providing a 'Contact Us' form is a great option on this page.
It's important to note – not all of the above options will be a right fit for your organization! The order in which you organize your pages, and even which options are applicable, will vary across small nonprofits.
CONCLUSION:
First time donor retention is a critical part of small nonprofit fundraising strategy. By incorporating engaging material and offering a few perks, digital donor welcome kits create a reliable way to impress those first-time donors and encourage their continued support of your organization.
Looking for a way to keep track of first-time donors and digital welcome kit send offs? Take a peek at Eleo to explore an all-inclusive and intuitive donor management software.