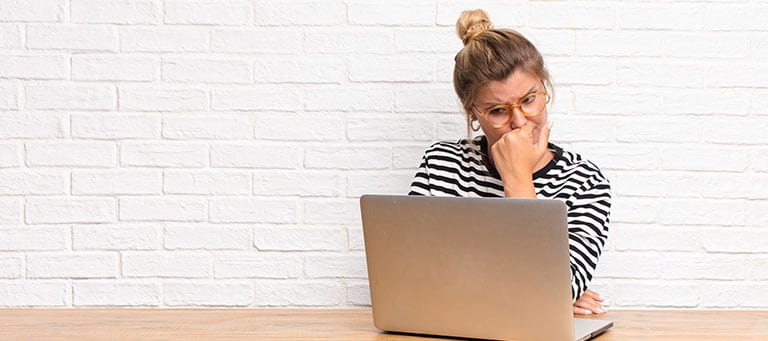 Do phrases like 'nonprofit CRM' and 'donor database' sound intimidating? Do you feel like you need a background in database management to even login to your company's account? Are you nervous about navigating portals and learning a new user interface?
Don't let the jargon scare you!
It's true – technological necessity has caught up with small nonprofits. Whether it's budgeting issues or a lack of computer prowess, many still cling to Excel spreadsheets and 3-ring binders. It's time for that narrative to shift. Maintaining donor data, on a dedicated software, doesn't have to be intimidating or expensive.
Think about it this way.
You have a cellphone, laptop, smart TV, desktop computer, and a tablet. You send and receive emails, texts, and instant messages. You've set up apps. You've created social media profiles. You've shopped online. You know how to drag and drop, edit and delete, share and post. And even if you don't have or do all of these things, you do some. If you have even a basic familiarity with the most widely used devices and applications, then you have the foundation in place to master a software like Eleo.
So, where does the rubber meet the road?
Well, think of the phonebook on your cellphone. Every number in your phone is linked to a name, as well as other biographical markers – photograph, email, alternate phone number; you can even add notes about the person! The beauty of donor management? It does all of that, and more. A donor management system takes your contacts and creates an incredibly robust donor profile. When is the upcoming meeting with this person? You can calendar that in your donor management system. When did they give last, and how much did they donate? You can find that metric in your donor management system. Who else does this donor know? You can track relationships in your donor management system. Point being – if you know how to add a contact in your phone, you will be able to add a contact in your donor management software. And subsequently, learn other features with ease.
Of course, choosing the right software is step one. If you're a small nonprofit, selecting a donor database that's simple and supportive is everything. You want to look for software that offers:
Onboarding with a dedicated support specialist
Complimentary data migration
Unlimited access to learning resources and personalized training sessions
New user training to help you get started
Unlimited live support to answer questions in real time.
If you need help narrowing down software, click here for a free e-guide on how to do just that!
Will you be a donor database expert on day one? It depends! But even if that first login causes a few butterflies, believe in yourself and your capabilities. Given the technological world we live in, you already have the basic skills necessary to learn straightforward donor management software. And remember – even a flip phone has a phonebook.
To learn more about how Eleo can help you succeed with your nonprofit CRM, visit the Support page and check out the Resources menu on the Eleo website!