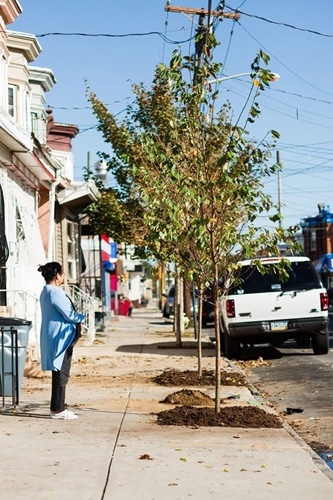 When one tree can inspire a whole city to improve their community, you know that a nonprofit is doing meaningful work. After one volunteer for the NJ Tree Foundation in Camden, New Jersey, saw the vast benefits of tree planting on his block, he decided that all of his neighbors should take more pride in their street. This initial desire to keep his streets clean led to the founding of the Camden Block Supporter Initiative, which aims to reduce hopelessness, depression and crime by bringing neighborhoods together to improve their communities.
Making a difference: One tree at a time
For Beth Kwart​, this story is just one of many about how the NJ Tree Foundation's volunteers and beneficiaries feel inspired to take ownership over streets from the nonprofit's tree planting initiative. She was working as a full-time grant writer at a nonprofit in Camden when she began volunteering at the NJ Tree Foundation as a tree planter. After about a year, an opportunity opened up and Beth joined the organization staff as the development coordinator.
The NJ Tree Foundation is a New Jersey nonprofit dedicated to planting trees in the state's urban neighborhoods. Many of these areas in which they serve only have barren sidewalks and trash covering the streets.
"When you plant a tree in front of their houses, they see a beautiful tree and wildlife and begin to take more pride in where they live," Beth says. "They clean up the trash on their block, put up colorful flags outside their homes and plant flowers. Even though it is just one small thing, we are doing it to try and improve these communities."
"NJ Tree Foundation's beneficiaries feel inspired to take ownership over their streets."
Some of the organization's programs include the Urban Airshed Reforestation Program, TreeKeepers tree care training courses and Green Streets, which provides transitional jobs for people under parole supervision. The team is dedicated to improving their state's environment and quality of life, one tree at a time.
Technology empowers nonprofits like NJ Tree Foundation to succeed
Since Beth joined the organization staff four years ago, she has helped increase revenue significantly from what it was before. She spends her busy days balancing grant writing, funding research and event planning. Before implementing Eleo two years ago, however, her donor management work was a bit more challenging.
"We were using spreadsheets and shared files to track donor information," Beth reveals. "This is common of a lot of smaller nonprofits. You think you cannot afford a donor management system, so you are using Excel and a calendar to manage your grants and keep track of individual donations. That can work for a certain period of time, but it is not a sustainable system."
Her team has also integrated its donation platform with Eleo, which means each gift is automatically inputted into their donor database. This gets rid of the need to manually transfer information and lessens the risk of human entry error whenever people move data from one source to another. As NJTF's few staff members already have to wear multiple hats on the job, it can be difficult to accomplish everything in regards to donor management.
The NJ Tree Foundation successfully uses Eleo to grow their returning donor base, whether this means encouraging people to give a second, third or fourth time. For example, in the system, users can track everyone who donated on Giving Tuesday the year before. If donors didn't this year, staff can reach out and tell them what an impact their prior donation made. Beth and her team leverage Eleo to target how they want to connect and build relationships with their donors.
After all, the NJ Tree Foundation heavily relies on the support of their passionate, eager volunteers and donors. It takes dedicated, special individuals like Beth to see their organization's mission carried throughout the state.