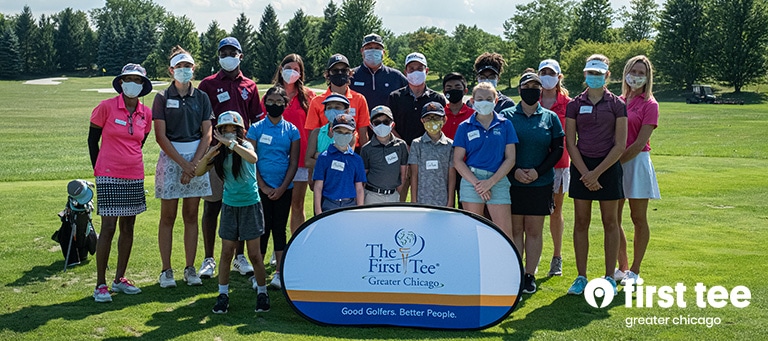 First Tee – Greater Chicago, a chapter in the First Tee network, exists to enable kids to build the strength of character that empowers them through a lifetime of new challenges. Utilizing the game of golf as its platform, First Tee – Greater Chicago creates learning experiences that build inner strength, self-confidence, and resilience that kids carry to everything they do.
Despite the pandemic, First Tee – Greater Chicago has been able to achieve two very important goals this year. First, the organization has entered a partnership agreement with the Western Golf Association. This relationship will open doors for many kids enrolled in First Tee – Greater Chicago's programs to pursue caddying and college scholarships.
Second, First Tee – Greater Chicago kicked off the Waveland Capital Project to build its first youth development facility at Waveland Park, which is adjacent to the Sydney R. Marovitz Golf Course along Chicago's lakefront. Lea Jesse, CEO of First Tee – Chicago, believes this is a game changer for the organization.
"This facility will allow us to run full-day programs, add valuable services like tutoring and monitoring, and have a technology lab in the clubhouse," Lea said. "We're very excited about the opportunity to have a deeper, long-term impact on the lives of the kids we serve."
Critical to the success and growth of First Tee – Greater Chicago has been the ability to track, manage, and analyze fundraising activity using Eleo Donor Management Software. When Lea arrived 14 months ago, she immediately saw the difference between Eleo and other solutions she had used previously.

A Flexible, Affordable Solution to Support New Programs
"I had used an older donor management system that wasn't cloud-based," Lea said. "I like using a cloud-based solution that can be accessed anywhere. We don't have to worry about downloading software to every computer or mobile device."
Another benefit that was immediately evident to Lea is affordability. She explained that because Eleo offers such robust capabilities at such a low price point, First Tee – Greater Chicago is able to devote more money from fundraising to its mission and programs.
With two new initiatives on the horizon, First Tee – Greater Chicago needs donor management more than ever. Their team uses Eleo to monitor fundraising efforts at a granular level. What works? What doesn't? They can generate reports to measure progress and inform future fundraising strategies.
Lea explained how important donor tracking is on an individual level as well. "We need to be able to track giving patterns and preferences to help us capture an individual donor's journey with us," Lea said. "We can use this information to make an appropriate ask for an annual gift or solicit a donation for an upcoming special project."
Implementing New Use Cases for Eleo
To support the organization's donor management strategy, Lea has taken advantage of Eleo's capabilities in new ways. For example, First Tee – Greater Chicago is now using tags to identify supporters as board members or ambassador's council members. Reports are then used to paint a more holistic picture of each group's collective impact.
They've also begun to track soft credits and in-kind gifts. For example, if a member of the board brings in a contact who donates a free golfing foursome, they can give the board member soft credit and track the in-kind gift. This data makes it possible to create a more comprehensive giving profile for each donor.
While one staff member is primarily responsible for entering data and creating reports on a day-to-day basis, Lea uses Eleo for CEO-level analysis. Who are the top donors? What are foundations and corporations giving? How did this year's event compare to last year's event? Being able to answer these questions with current, accurate data is critical to strategic, big-picture planning.
The Advantages of Live and Local Support
Even the most user-friendly donor management software can be confusing at times. This makes Eleo's local customer service and support team extremely valuable.
"We love that we can pick up the phone and speak with a live person," Lea said. "Usually, it's the same person, so she knows our nonprofit and what we're trying to accomplish. When we have a question, she can walk us through the issue with our specific needs and goals in mind."
2020 has been an extremely challenging year for most nonprofits, including First Tee – Greater Chicago. Eleo Donor Management Software has played an important role in helping the organization navigate these challenges and push forward with bold initiatives.
We at Eleo congratulate Lea and First Tee – Greater Chicago on their success and look forward to continuing our partnership as these exciting programs come to fruition!