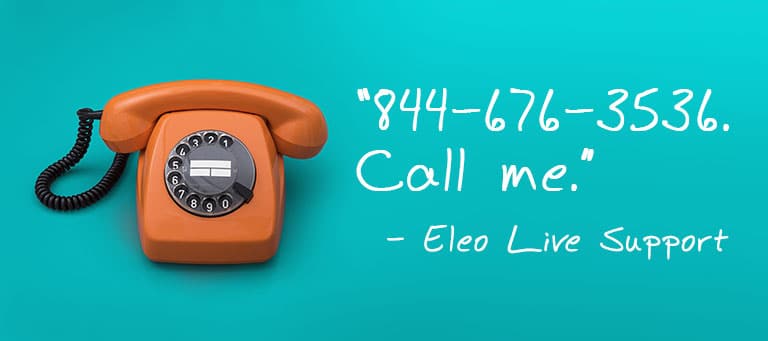 Eleo is the only provider of online donor management software at this price point (as little as $39 per month) to offer free live phone support. We say this not to be boastful, but to start a very frank discussion about the difference between email support and live phone support.
According to the 2018 Customer Service Benchmark Report from SuperOffice, the average time to respond to a customer service request by email is more than 12 hours. 62 percent of companies don't even bother responding to customer service emails. Just 20 percent of companies are capable of answering the customer's question in full on the first reply, and only 3 percent send a follow-up email to find out if the customer is satisfied with the response.
On the other hand, research from Verint Systems and IDC revealed that 83 percent of respondents said speaking with a person will always be an important part of the customer service equation. The study also found that the phone is the most popular way to contact an organization for customer service.
To be fair, some people don't like to pick up the phone. Some prefer to look for help through social media. Others opt for live chat or text messages. However, the overarching message is that there's something to be said for being able to have a one-on-one conversation with someone who knows the software.
The Downstream Effects of Slow Customer Service
Think about what happens when your donor management software isn't doing what you need it to do, or you can't access the information you need. If live phone support is included, someone is able to hear the issues you're having, answer questions, and help you find the right solution, instantaneously.
When you have to wait for answers, you fall behind schedule. Productivity suffers. Morale suffers. Operations are disrupted. That email about your upcoming fundraiser might be delayed a day or two.
It can be stressful enough to learn and use new software. But when people have trouble using technology, they often decide to use it less frequently or stop using it completely. At this point, the impact of slow customer service response begins to trickle down to donors and volunteers.
The Value of Real-Time Phone Support
When people get the support they need immediately, disruptions could last a half hour instead of a half day. People then continue to use your technology with confidence. When they use the software, they're better equipped to manage donor relationships and volunteers. When they manage donor relationships and volunteers more effectively, the nonprofit as a whole is more successful. It's a win-win.
Psychologically, your nonprofit staff likes to be cared for, just like they devote so much of their time and energy to caring for others. They take comfort in knowing that help from a live human being is only a phone call away. The prospect of waiting 12 hours for a response and hoping that response actually solves the problem is the opposite of comforting; it's frustrating, at best.
If you're evaluating online donor management systems, find out about the support options and costs, and don't discount the value of live phone support. Although Eleo is easy to learn and use, we still include live, local phone and email support, at no additional charge. Give us a call at 1-844-676-3536 to test it out!