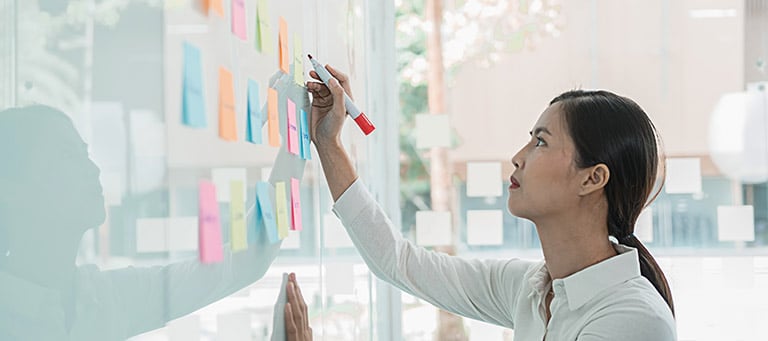 We've said many times in the Eleo blog that small nonprofits should operate like small businesses. One of the keys to success is having a documented business plan. In fact, one could reasonably argue that a business plan is even more important for a small nonprofit due to tight budgets and high turnover.
Here are the basics of what a nonprofit business plan looks like and why creating and updating the business plan should be a top priority for small nonprofits!
What Is a Nonprofit Business Plan?
Let's start with what a nonprofit business plan is not. A nonprofit business plan is not a mission statement, fundraising plan, bylaws, or a set of standard operating procedures… although, all should be taken into account when developing your plan. A nonprofit business plan is a clear, comprehensive roadmap that lays out the "who, what, when, where, why, and how" of your organization.
Ready to get started?
When creating your nonprofit business plan, answer the following questions:
What is our purpose?
What makes our small nonprofit unique from others that offer similar services?
What are the roles and responsibilities of staff, volunteers, and board members?
What are our goals and priorities?
Who do we serve (groups of people, geographic area, etc.)?
What activities are involved in achieving our goals?
What are key milestones along the way?
How much will it cost to operate and achieve our goals?
Where will the money come from (fundraising, grants, etc.)?
How will you reach donors (marketing)?
What potential risks are involved, and how can we avoid or minimize them?
How will we deal with different types of emergencies (crisis management)?
What opportunities for growth should be explored and cultivated?
Think of your nonprofit business plan as an engaging and evolving narrative, not a sterile policy. Start with an outline and use that framework to craft a story that's immersive and makes sense to someone outside of the organization!
Why Is a Nonprofit Business Plan Important?
A nonprofit business plan provides clarity, consistency, and stability. It enables small nonprofits to operate within tight budgets and make sound financial decisions. It can help avoid confusion and resolve disagreements. It enables small nonprofits to navigate change, onboard new staff and board members, and stay focused on the mission and organizational objectives.
The unfortunate reality is that, without the accountability and structure of a business plan, small businesses and nonprofits alike are more likely to operate inefficiently, waste time and resources, and fall short of goals.
How Often Should a Nonprofit Business Plan Be Reviewed?
Nonprofit experts recommend reviewing business plans at least once a year or whenever a major change takes place. For example, when you have staff changes or restructuring, or you welcome new board members, the business plan should be reviewed and revised.
Consider your nonprofit business plan a living, breathing document that can and should be updated regularly to reflect your current mission and the needs of the communities you serve.
How Do I Get Started with a Nonprofit Business Plan?
There are plenty of nonprofit business plan templates available online to help you begin the process! Many small nonprofits will also work with a consultant or their state association of nonprofits to analyze their financial situation and develop an appropriate business plan.
For new nonprofits, the business plan will be based on financial projections and market analysis. This data will probably change frequently in the first three years as you begin to build historical data. If your organization is not new, you should have historical data that can be gathered and organized to inform your nonprofit business plan.
We recommend checking out these resources from The Council of Nonprofits to get started. Developing a nonprofit business plan may seem overwhelming at first, but don't get discouraged! Your business plan will go a long way towards helping your nonprofit function efficiently, fundraise effectively, and make a bigger difference!