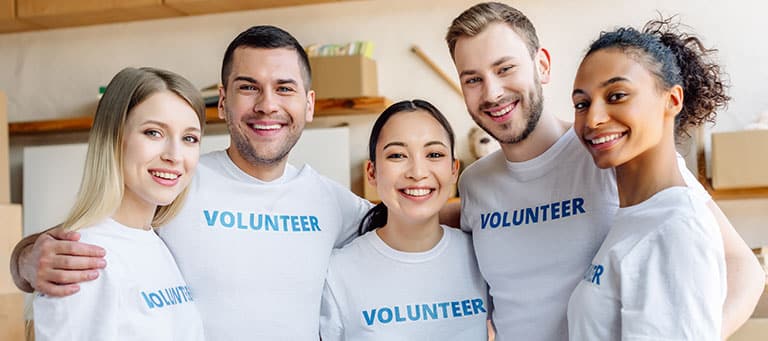 According to the 2020-2021 National Panhellenic Conference survey of sororities, active and alumni members of sororities donated more than $34 million and nearly 1 million volunteer hours to philanthropic activity.
According to North American Interfraternity Conference research, 83 percent of fraternity members are more confident in their leadership skills because of their Greek experience. Nearly half serve in leadership roles in other campus organizations. Fraternity and sorority members spend significantly more time volunteering, mentoring, and serving their communities than non-members.
While there is certainly a social component to Greek life at colleges and universities, stereotypes based on movies and negative news stories are way overblown. Fraternities and sororities offer opportunities for members to build lasting relationships, learn and apply new skills in the real world, and give back to their communities. 
And when it comes to partnerships for small nonprofits, Greek organizations probably make more sense than you realize. Let's take a look at a few reasons why!
Greek Life and Nonprofits: The Similarities
When you look at how Greek organizations are structured, you see many similarities with nonprofits. Fraternities and sororities have executive boards, officers, and committee chairs who meet regularly to discuss organizational business. One of the most important offices is the philanthropy chair.
Members are essentially volunteers who participate in fraternity and sorority events and activities. They actively recruit new members. Although Greek organizations are largely funded by member dues, they manage fundraising campaigns and events throughout the year to support facility improvements and other initiatives. This includes regular outreach to alumni for donations.
Fraternities and sororities are also required to participate in community service and philanthropic events to keep their charter. Many of these events are tied to their national organizations and have national brand recognition, while others are managed in partnership with local nonprofits. 
Connecting with the Next Generation of Nonprofit Leaders
People join fraternities and sororities because of shared interests, including support of a common cause and mission. Service and philanthropy are engrained in the culture of each organization. 
Members gain valuable real-world experience and leadership skills. Unlike an internship that might last a few months, Greek life gives members an opportunity to cultivate those skills from the time they join until they graduate. After graduation, many use their Greek connections to network and advance their careers.
Fraternities and sororities are not only great partners for small nonprofit fundraising, but they're also a phenomenal resource for recruiting volunteers, staff, and leaders. Many members have the skills and networks that small nonprofits desperately need, whether you're staffing an event or seeking future board members!
How to Find the Right Greek Partner for Your Small Nonprofit
Most fraternities and sororities have websites and social media pages. Find out which organizations are active at a nearby college or university. See what causes each organization supports, locally and nationally. 
Once you've determined which fraternities and sororities seem like a good fit, call their philanthropic chairs. Call their faculty advisors. Educate them about your mission and learn about their mission. Stop by campus events and meet with people in person. Gauge interest and brainstorm ideas!
The Foundation for Fraternal Excellence also offer opportunities for nonprofits to become Alliance Partners. Eligible organizations can be matched with fraternities and sororities who make sense for mutually beneficial partnerships.
Whether you're looking to increase awareness of an event, find more volunteers and staff, or develop ongoing fundraising partnerships, think about going back to school! A Greek organization could very well be that key partnership you've been overlooking!