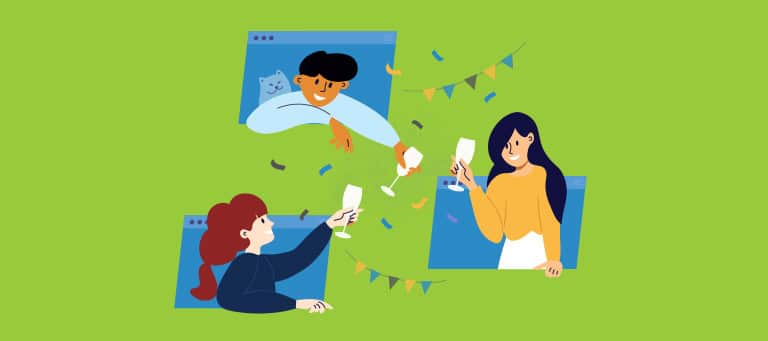 In our previous article, we discussed the basics of virtual events and this week we are going to go over virtual fundraising event ideas. With in-person events off the table for the foreseeable future, virtual events allow you to create fundraising and engagement opportunities with lower costs, more convenience, and unlimited creativity!
Here are five virtual fundraising event ideas to help small nonprofits succeed in the online world.
1) Live Streams
A live stream is a live, online video of an event as opposed to a pre-recorded video. Live streamed virtual events allow for real-time conversations and tend to generate more excitement. Because they offer organic interaction, live streams also provide the added benefit of being able to read your audience's reactions. This can provide insight for your nonprofit to grow and better your virtual offerings.
Of course, you can also record the live stream. This recording can then be posted to your website and social media pages for on-demand viewing. Or, you can even pull clips from the live stream to develop promotional videos.
Some examples of Live Streams:
Interview a community figure
Host a town hall with a thought leader in your nonprofit's category
Hold an educational webinar
Throw a launch party for a new nonprofit program
Hear from or share the stories of those impacted by your supporters' generosity
2) Virtual Walks or Runs
In a virtual walk or run, each participant is expected to cover a certain distance during a determined time frame. The difference between a virtual walk/run and a in-person event is that the virtual event can be done wherever and whenever the participant chooses, even on a treadmill! As with other virtual fundraising event ideas, the convenience can actually lead to higher participation rates.
Generally, the nonprofit will charge admission to participate. Small nonprofits can use Eleo's Web Forms to offer online walk/run registration, sponsorship opportunities, donations and more. Participants are also able to ask family and friends to support them on their mission, bringing in more money along the way. Another engagement tactic, is to ask your participants to provide videos of their walk/run; which you can then use as promotional material or you can ask the participants to post using a specified hashtag.
3) Virtual Classes
Many people who have felt isolated during the pandemic would love the opportunity to learn something new! Yoga, meditation, painting, cooking, scrapbooking, photography, sewing, and hundreds of other skills and disciplines can be learned virtually. The beauty of virtual classes is that they create regularity – you can offer them weekly, monthly, etc. By providing consistent opportunities to interact with your donors, you create a space of comfort and can strengthen your donor relationships. This, in turn, can increase donations substantially. Nonprofits can charge a set admission cost for certain classes and request donations for others.
4) Virtual Arts and Entertainment
Theatre productions, movies, film festivals, art exhibits, concerts, comedy shows, and children's singalongs have made their way into the virtual world during the coronavirus pandemic. This type of online event is not limited to arts-based nonprofits! Any small nonprofit can reach out to local theaters, cinemas, or museums to ask for their assistance or to even donate their recorded materials. Not only does this expand your audience, it also creates a connection between your organization and the organization in your community.
Whether you offer a special one-time showing or make a performance available for on-demand viewing, many donors will appreciate being able to see shows that they haven't been able to see in-person. Think: Hamilton on Broadway, but on a smaller scale.
As an extra incentive, you can provide exclusive content (unseen footage, outtakes, interviews, etc.) for those who attend the virtual show. You can also encourage supporters to plan watch parties with friends and family, which will extend the reach of your virtual fundraising event and potentially introduce you to new donors!
5) Virtual Games
Whether you want to keep it simple with virtual bingo or create a team trivia challenge, virtual games are fun and full of energy! There are plenty of downloadable apps that allow you to upload trivia questions, keep score, show standings, and automatically time each question so you can keep the game moving. You can even turn virtual games into a weekly or monthly challenge and offer prizes to the winners! Again, these virtual fundraising events would require paid admission and your nonprofit can develop different avenues for giving during the online event.
Want to see the best possible results from your virtual events? Dig deep into your donor management software to figure out which type of events will draw the most interest from your small nonprofit's supporters. Try different events and approaches. Use each virtual event to gather information and add notes to your donor database. Incorporate fundraising before, during, and after each event. Most importantly, make your virtual events fun!
Contact us to learn how Eleo can help you plan and manage your virtual fundraising events.