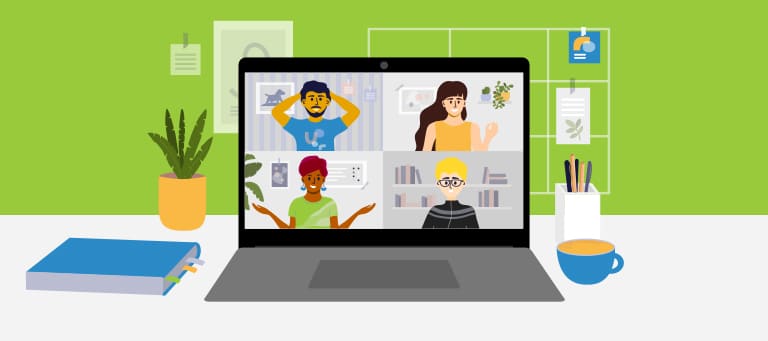 A worldwide pandemic hit, and your small nonprofit was forced to grapple with how to move forward. How will you meet your fundraising goals? Who will be able to volunteer? What can you do to survive this?
Spring and summer are usually ripe with nonprofit events. And the current state of the world allows for nothing of the sort. Nonprofits across the globe are looking for alternatives to galas, walks, cultural events, live entertainment, and other fundraising opportunities.
The most viable substitute? Virtual events.
If virtual events and video conferencing seem overwhelming – don't worry. Even large businesses have been learning on the fly. People realize there may be glitches and growing pains, so don't let fear of a minor mishap keep you from taking your events online!
Let's discuss what exactly a virtual event is, why they're important for small nonprofits, and factors to consider when developing a virtual event strategy.
What Is a Virtual Event?
A virtual event is an event held online rather than in-person. Although online events can be pre-recorded, the most successful virtual events are live streamed using video conferencing software to allow for real-time, face-to-face interaction.
You've probably used or at least heard of Zoom and Google Hangout, which are the most commonly used virtual event tools. Other platforms like Facebook, Instagram, LinkedIn, and YouTube also offer virtual event capabilities, and most have free or low-cost options. You can read about a number of nonprofit Virtual Tools, by CLICKING HERE.
Why Nonprofits Should Be Embracing Virtual Events
Although the impact of live events and in-person interaction is tough to beat, virtual events provide small nonprofits with a low-cost way to engage donors and potentially interest new constituents that wouldn't normally attend. Virtual events are typically shorter, more convenient (no driving!), and can be held more frequently than in-person events. An added bonus – they allow your nonprofit to test different types of events, quickly and inexpensively. Want to try a virtual cocktail hour? Go for it! Interested in beta testing a bingo night? Give it a try!
Keep in mind that virtual events are here to stay. Even as the science surrounding the pandemic evolves, the general population will not instantaneously go back to its previous status quo. With most live events on an indefinite hiatus, virtual events are going to be critical to your cause. Just as doctors provide virtual appointments as a standard offering to patients, nonprofits should be looking at virtual events as a long-term engagement and fundraising tool. In essence, nonprofits should expect to see a mix of live and virtual events in the future.
Questions to Ask When Planning a Virtual Event
The key is to avoid simply creating a virtual version of your in-person event. In other words, don't just try to salvage your cancelled event by moving it online. Not every in-person event translates well to a virtual environment.
On the other hand, a well-planned virtual event that takes full advantage of a platform's capabilities can be extremely successful!
Here are three questions to ask when planning a virtual event:
How will the event support my fundraising goals? Fundraising doesn't always have to be the top priority, but every virtual event should have a fundraising component, such as charging admission, requesting donations during the event, following up after the event, etc.
What types of activities do my donors miss? Depending on your nonprofit's cause, your donor's interests may vary. Some donors might enjoy a virtual concert or theater production while others may be craving a comedy show or mixology class. It is important to uncover the activities they have been missing since the pandemic began.
How can I make my virtual event interactive? Rather than have an event in which the participant is a passive observer, look for ways to make virtual events interactive with live chat, social sharing, games, and other engaging activities.
Now that we have a better understanding of virtual events, why they're important to small nonprofits, and what you should consider when creating a virtual event, wouldn't it be helpful to have a list of virtual events ideas to get your wheels turning? In the next post, we'll provide a list of online event suggestions and explain how they can be effective.