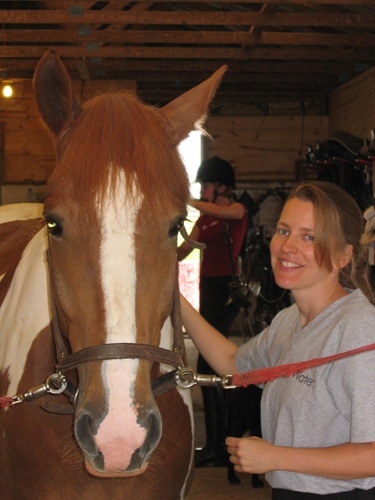 On one of Beth Miller's first days working at Special Strides, students from a local school for children with special needs visited the farm. Many of these children used wheelchairs for mobility and one child in particular was very distraught and couldn't effectively communicate what he was experiencing or feeling.
Though she was busy working in the office, Beth spent time with the boy and his caretaker on the porch outside, which was away from all the bustling activity. She sat down next to them and began petting one of the cats who lives on the farm and talking to the caretaker. During this time, the boy calmed down and began petting the cat and intently watched the horses in the distance.
"In my mind, I made a difference for someone's life that day," Beth explains. At Special Strides, it's meaningful moments like these that matter.
Making a difference: One moment at a time
Beth is a development assistant at Special Strides, a facility in Monroe NJ that provided Equine Assisted Activities and Therapy (EAAT). While she first began as a volunteer in October 2015, she has since become a par-time employee who helps with donor management and fundraising efforts, along with numerous other areas of the organization.
"'In my mind, I made a difference for someone's life that day.'"
Beth says volunteers – like herself – are critical in keeping Special Strides operating smoothly throughout the year. From office work, to volunteering on committees, to side walking with the horses, Special Strides depends on dedicated volunteers who believe in the organization's mission of "improving lives … one stride at a time." She points out they currently have over 500 volunteers supporting them, who continue to help them remain successful every year. Some of these volunteers are even pre-professionals or those who love horses and working with individuals with special needs.
"Special Strides has been very successful working with future therapists with mentorship and internship opportunities while these individuals are still studying in their fields," Beth says. "Many of the teens who volunteer at Special Strides, credit [the organization] in helping them make career choices as they moved through college onto professional positions."
A 'household name'
The exceptional work Special Strides has accomplished in their community has made them a household name in the central New Jersey area, Beth affirms. Children and adults eagerly come to Special Strides at Congress Hill Farm, after hearing about the amazing benefits of equine assisted activities and therapy. As one of the largest riding centers in the state with extensive program and service offerings, Special Strides has the drive and resources to make an impact in each person's life who comes through their doors.
When their clients are astride their horses, they work muscle groups that would not be strengthened by other therapies and therapeutic methods as effectively. This is why equine assisted activities and therapy is an ideal intervention  for many different individuals. Special Strides has access to trellises, bridges, seesaws and trampolines, which all offer different and unique ways to help stimulate and strengthen clients' bodies.
Special Strides fundraising efforts have also had a monumental impact in the lives of the people who depend on them. Between the Junior Committees from several local high schools, Annual Color Run, Annual Barn Dance and many other events supported by the organization's community, 43 percent of their families receive financial aid each year.
Helping humans and horses live better lives
"There is not a time in my life that I did not love horses," Beth says. While as a young girl she nurtured a child-like fascination with the graceful animals, it was her first-hand experience caring for her own horse that meant the most. Her own horse was a source of strength during her mother's lengthy battle with cancer and subsequent passing, Beth explains.
"Special Strides heavily relies on their passionate volunteers."
"The horse was able to give me time to be 'grounded' so that I could be a strong driving force for my mother and family," Beth recalls. "Being able to further the mission of Special Strides to help those who need these majestic animals fulfills me in so many ways."
While Special Strides significantly impacts the lives of both the volunteers and those receiving equine assisted activities and therapy , the team helps the horses as well. Some of The horses at Special Strides are on their second jobs, and joining the program has saved them from an uncertain future. These former riding horses and work horses are trained in the movement necessary for hippotherapy  as well as  adaptive riding and driving.
Witnessing impact 'on an individual level'
Just like any nonprofit, there's a lot of work to be done and few people to do it. Beth says, "When you ask the Executive Director, 'Do you want to help a client or meet with a potential donor?', the answer is yes to both."
The biggest challenge, she continues, is organizing priorities. Without clients there would be no Special Strides, but the organization wouldn't exist without their donors either.
Beth's previous career was in biochemistry, so she appreciates the importance of an organized database. Prior to turning to Eleo to manage their donor database, the staff was stretched beyond their capacity, which made it difficult to easily connect with every donor in meaningful ways.
"The staff did an incredible job keeping track of addresses, acknowledgements and outstanding pledges, but Eleo has allowed Special Strides to do so much more – like looking at giving trends and which donors have dropped off the radar," Beth explains.
Beyond the numbers, Beth says she has been extremely grateful for the opportunity to assist the team at Special Strides, as it allows her to see the impact of her work "on an individual level." The organization's mission to improve the quality of life of everyone that passes through its stable gates has had a personal impact on Beth herself, as her own uncle lived with severe physical disabilities.
"He always had a positive attitude despite being wheel chair bound and was a long time volunteer for the air national guard doing work on his ham radio," Beth reveals. "If I can help Special Strides help someone like my uncle experience fulfillment in life, then I feel like I am doing something really worthwhile."
While Special Strides has gone through much growth over the past 18 years, its core message hasn't changed. "A love of nature and a love of children with special needs permeates through everything we do," Beth concludes.
In order to operate, Special Strides heavily relies on their passionate volunteers, so it takes the care, passion and dedication of special people like Beth to see this mission fulfilled, through every stride.