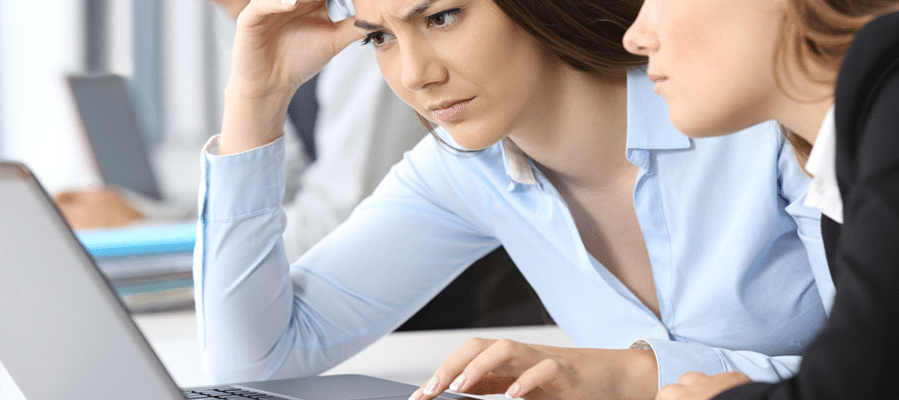 The average nonprofit professional stays with the same organization for about two years. For development folks, that number falls to 18 months. High turnover is an unfortunate reality in the nonprofit sector. And the problem is compounded by complicated software.
We've learned that the issue isn't only caused by having information scattered across Excel spreadsheets, email platforms, file-sharing applications and sticky notes. Many nonprofits have actually invested heavily in large, complex software systems. So, what happens?
Why are nonprofits unable to take advantage of the services they pay big money for?
Answer: They lack usability.
Because of this, they struggle to get new staff trained. They have to pay for extra support. They can't figure out how to import critical data. The costs are disabling. The list goes on. So, by the time a new hire is up to speed, they already have one foot out the door. What's more – senior staff rarely have training themselves.
In some cases, nonprofits are using a complex collection of "specialized" software. You have one app for events, another app for auctions, another app for fundraising, another app for marketing, etc. Like most businesses, the average nonprofit accumulates a hodgepodge of disparate tools over many years for different purposes. When turnover is high, too much energy is spent trying to navigate the complex software, or worse, the software is abandoned completely. The resources may be there but the simplicity, the people and time are not.
The implications of this negative cycle are paramount. What happens if you miss emails to your largest donors? What's lost when there is a gap in communication? How do your donors feel when, after years of giving, you don't know who they are? How does this influence your nonprofit's revenue stream? A few missteps can have a major impact on donations and thereby the overall financial health of your nonprofit.
The Value of Simple Software, with High Usability
As volunteers, directors and support staff change over, your donor management software should never add to the frustration. It should be the one part of the turnover that feels easy. It should support you through the change.
Larger platforms could have more bells and whistles; but if you don't use those bells and whistles, can you justify the costs? More complex systems may provide elaborate reporting; but if you are required to attend lengthy, cost prohibitive trainings, can you justify the time? Your nonprofit pays exorbitant amounts of money for these systems, yet when your staff and volunteers reach out for help, are you okay with the additional, hidden fees? And what about payment processing fees? Larger donor management systems are known for taking a percentage of your nonprofit's donations. Will your board approve such costly transactions?
By contrast, usable donor management software makes learning fast, easy and affordable. Instead of depending on a single staff member or volunteer, it allows your nonprofit to train your whole team. Instead of hesitating to ask for help, you get immediate, individualized support. Instead of hefty fees, you get more revenue going directly toward your mission. Simple software streamlines donor cultivation and increases nonprofit morale. You get everything you need, in one platform, and you actually use your system.
What Usable Donor Management Software Looks Like
Usable donor management software is easy – straightforward customization and integration with your web forms, email marketing platforms, accounting software, payment processor and other tools.
Usable donor management software is easy to access from any internet-connected device – desktop or mobile, PC or Mac. If you use a cloud-based platform, the software itself is managed, maintained, updated and secured by a third-party service provider with far more IT resources and expertise that most nonprofits.
Usable donor management software is simple, with an intuitive, user-friendly interface and layout that non-techies can learn quickly. Remember, even the best, most expensive software on the planet is useless if people don't understand it.
Keep in mind that donor management software can be both usable and feature-rich. Make sure it allows you to manage donors and volunteers, track and acknowledge gifts, manage donor outreach, build lists, schedule tasks, run reports, analyze trends and performance, coordinate events and perform other essential tasks.
Support is critical. Getting started can be a little overwhelming, so look for a vendor who simplifies onboarding by managing the initial data import, assisting with configuration and customization, and providing free training with a live person. You're bound to run into the occasional hiccup, so make sure you can contact support by phone or email when you need help.
Don't let complex donor management software complicate turnover and negatively affect the performance of your nonprofit. Simple software does the opposite. Let us show you how Eleo Donor Management Software provides the simplicity you need without sacrificing features, security or support.