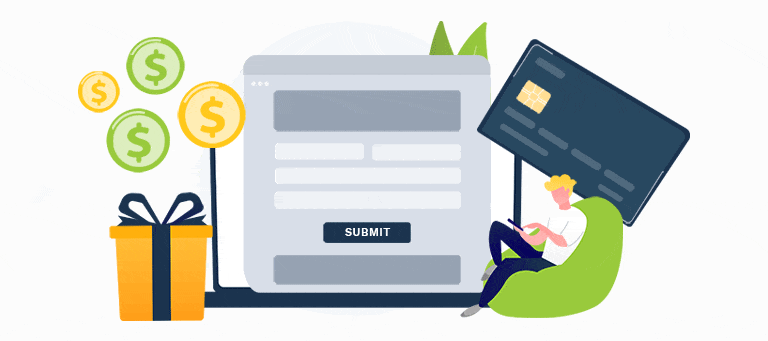 An online donation page is where a large percentage of nonprofit giving happens. Whether on your website, in an email, or posted to social media, your small nonprofit's online donation pages are (or should be) a critical part of your fundraising strategy.
One common but easily fixable mistake we see with online donation pages is that small nonprofits often use the basic, bare-bones payment pages offered by popular payment processors. Why is this problematic? These pages lack the features that small nonprofits need to establish stronger connections with donors and increase their fundraising.
Here are six features that are generally included with customizable online donation forms but missing from basic payment processor forms.
1) Branded Imagery
Customizable donation forms allow you to change the header and footer of your online donation pages. Why does this matter? Because this allows your small nonprofit to brand your forms. Whether it's your logo, an event theme, or simply coordinated colors, branding is everything! When a form fits the look of your small nonprofit, it shows the donor you have a cohesive fundraising platform. Donors then tend to stay on the donation page longer and give more.
2) Custom Fields
Basic payment processor forms typically only include the name of your donor, their address, and the donation amount. On the surface, this can seem like enough information for a small nonprofit to collect. But, what if you could learn more?
On customizable donation forms, in platforms like Eleo, you can create custom fields to gather valuable information from donors. Where would they like their money to go? Are they interested in volunteering? This data can give you a much better understanding of donor interests, preferences, and tendencies, so you can then personalize their experience in the future.
3) Event Registration
Basic payment processors allow your donors to do one thing – pay a single sum of money.
But what happens when you're hosting an event? Event registration requires so much more than a simple donation. Supporters will need options. Not only will they need to register for the event, but your nonprofit will likely want to offer tickets for different activities, sponsorship sign ups, and even raffles.
Custom forms through your donor management software should allow you to create online event registration forms that capture everything you need for your big day.
4) No-Fee Forms
Sometimes small nonprofits aren't asking for money! Maybe you would like to ask your supporters to volunteer, or suppose you're hoping to update emails and mailing addresses in your donor records. Basic forms through payment processors are strictly about collecting cash. They don't allow small nonprofits to focus on building donor relationships outside of money. However, customizable online forms allow your nonprofit to create pages that never even show a credit card screen.
5) Custom Confirmation Emails
Confirmation emails are important, but they are not all created equal! A cold, generic "we've received your donation" email is a missed opportunity to build a stronger connection with that donor. Online donation forms, like the ones in Eleo, allow you to draft custom messaging for your follow up emails. Use heartfelt language, express genuine gratitude, and show the donor that their money matters!
6) Donor Database Integration
Because online donation pages, event registration forms, and contact forms are all available in Eleo Donor Management, all donor data collected on these forms is seamlessly transferred directly into your database. That means no duplicates, no manual entry, and no having to deal with a third-party platform.
Eleo includes an unlimited number of branded online forms with your monthly subscription. This allows you to create different online donation pages, event registration forms, and contact forms for various fundraising campaigns.
If you'd like to learn more about online donation page features, contact Eleo to schedule a free demo!
If you're already an Eleo user, check out our custom form design services.